Bis Mittwoch war die Woche unspannend. Büro halt, kein Schatz, dafür eine Unstimmigkeit im Büro – nicht intern in der Abteilung, aber bezüglich einer Mitarbeiterwerbung von mir. Habe mich daher entschieden, dass mein Arbeitgeber in meinem XING Profil nicht mehr prominent vertreten sein muss – werde das aber noch ausfechten.
Dienstag dann endlich wieder "Die Höhle der Löwen" – ja, ich bin ein Fan geworden! War wieder eine sehr interessante Folge, wenngleich der neue Löwe mir etwas ruhig erscheint. Dann direkt ins Bett, am Mittwoch hieß es ja zeitig aufstehen, meine Reise ins Kulturland Kreis Höxter, zu der ich eingeladen war, stand an. Und es begann mit:

Kulturland Kreis Höxter (da mache ich gerne Werbung für!) sein sollte.
Nach einigen hin und her Überlegungen beschloss ich, die Verbindung über Kassel zu nehmen, 22 Minuten verspätet wäre ich dann in Paderborn, aber schon vorher etwas näher am Ziel.
Glücklicherweise ist Thorsten auch Frühaufsteher und die beruhigende Nachricht, dass das alles fein ist, kam schon lange vor Abfahrt des Zuges. So konnte ich bei meinem Umstieg in Kassel auch noch ein lecker Mett- und ein Ahle-Wurst-Brötchen genießen :)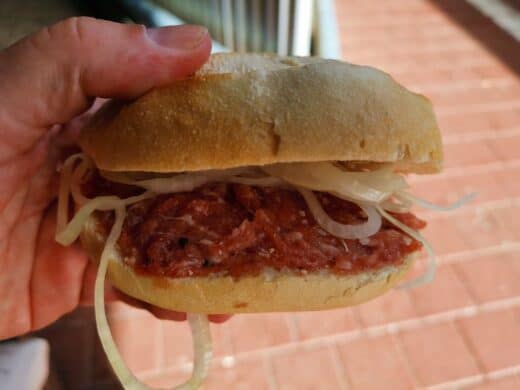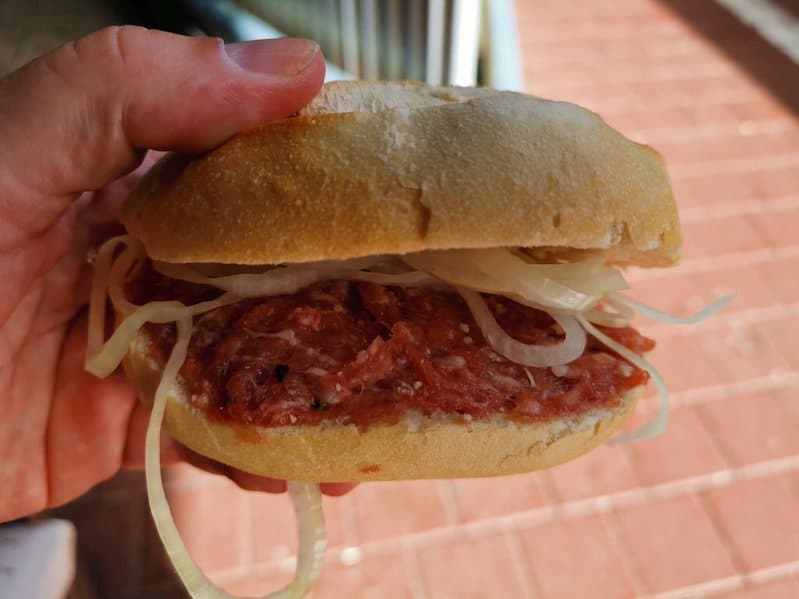 Das Hotel Schloß Gehrden ist ein ehemaliges Kloster – und ein mächtiger, aber schöner Bau!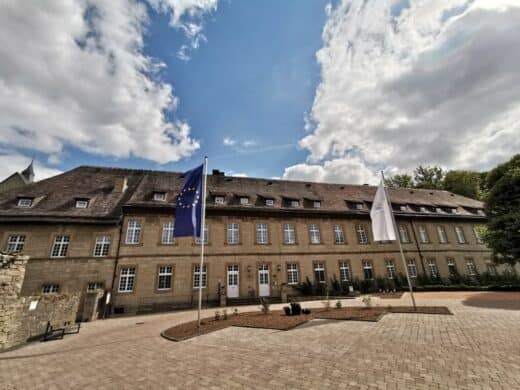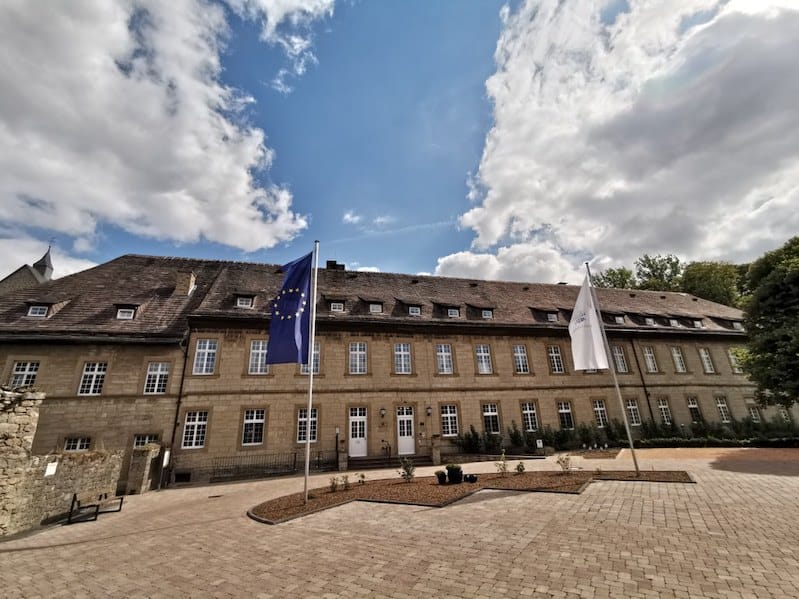 Nach einer kurzen Vorstellungsrunde vor dem Hotel ging es dann zur ersten Station der Reise – ein (Wild-) Kochkurs mit Franz Josef Ikenmeyer vom Landgasthaus Ikenmeyer in Neuenheerse stand auf dem Programm. Uns stand dabei frei, ob wir mithelfen wollen oder einfach nur zuschauen. Und es wurde eine Mischung daraus dann. Mich hat es sehr begeistert, wie einfach kochen sein kann und ohne großen Heckmeck.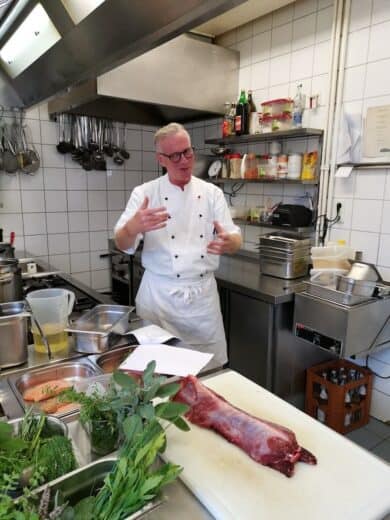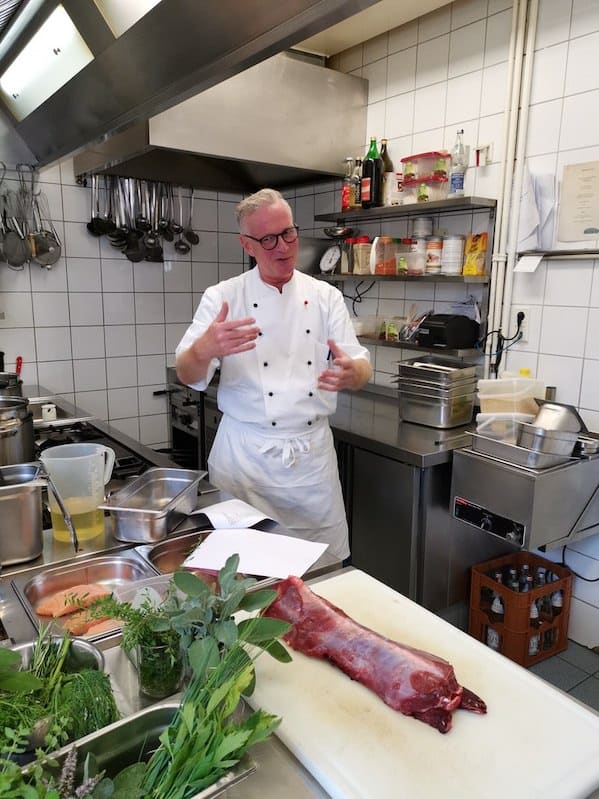 Für das folgende Gericht habe ich einen Teil des Lachses zusammen mit Thorsten gewürfelt – und das ganze am Ende auf den Tellern angerichtet: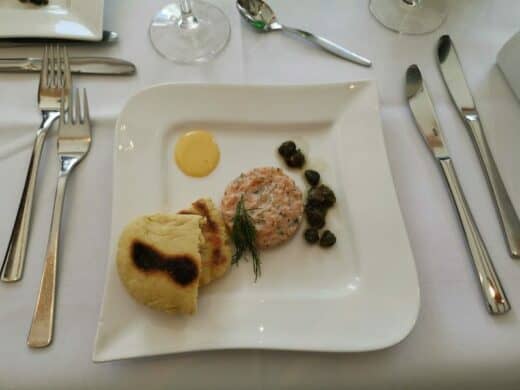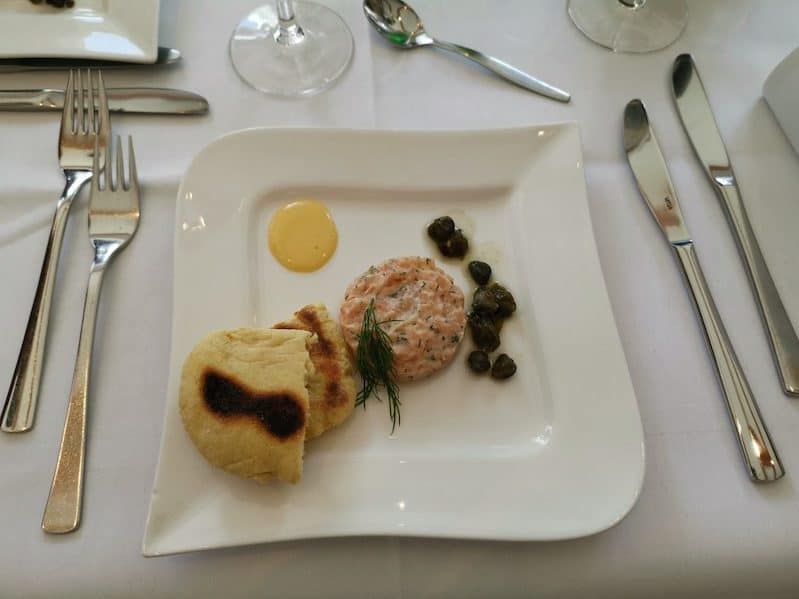 Ach ja – hier im Wochenrückblick reisse ich natürlich die Stationen nur an, ausführliches wird es dann im Travellerblog.eu geben, ist klar, oder?
Am Abend stand noch ein interessanter Vortrag von Thorsten auf dem Programm, wo auch meine Website ein wenig auseinander genommen wurde. Waren noch interessante Denkanstösse bezüglich der Gestaltung dabei, mal sehen, ob ich davon im Rahmen meines Themes umsetzen kann. Und, ja ich erde versuchen daran zu denken, alle Fragen zu beantworten in Blogartikeln ;)
Donnerstagmorgen stand nach dem Frühstück eine Achtsamkeitswanderung mit Anke Holz auf dem Niesetalweg an. Davon hab ich dann auch später im Travellerblog wenig Bilder, denn ich wollte mic ganz darauf einlassen und habe daher das Handy fast komplett in der Tasche gelassen, nur 3-4 Mal kurz für ein Bild gezückt. War eine sehr spannende Erfahrung und macht mich auch jetzt noch etwas nachdenklich, wie oft ich achtlos durch die Gegend gehe.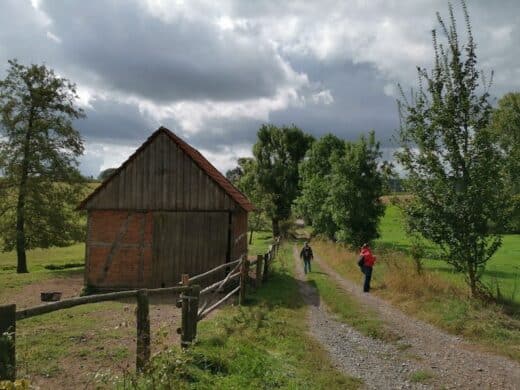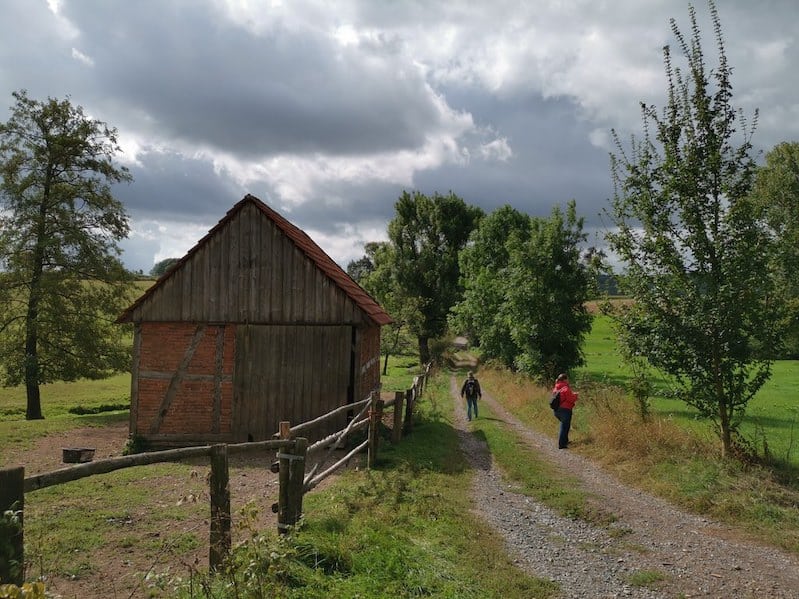 An die Wanderung schloss sich ein "kleines" Picknick an mit leckeren regionalen Speisen aus dem Hofladen Futterkrippe von Birte Brand, den wir dann am Abend doch auch noch spontan besucht haben. Nicht nur, dass alles sehr lecker war (mein Favorit: Der Rotweinkäse), auch Ihre Art, wie sie begeistert von dem ist, was sie tut, verschafft mir wahnsinnigen Respekt. Und stellt mir auch wieder ein wenig die Sinnfrage, ob ich nicht mehr das tuen sollte, was ich möchte, anstelle tagtäglich ins Büro zu gehen.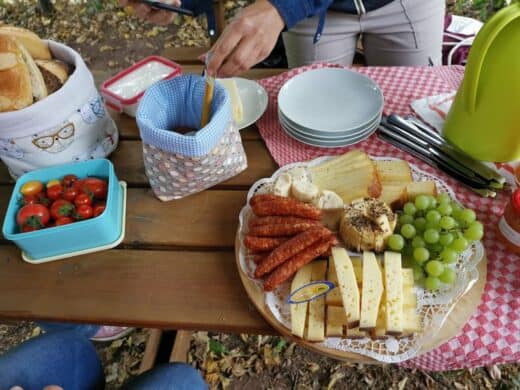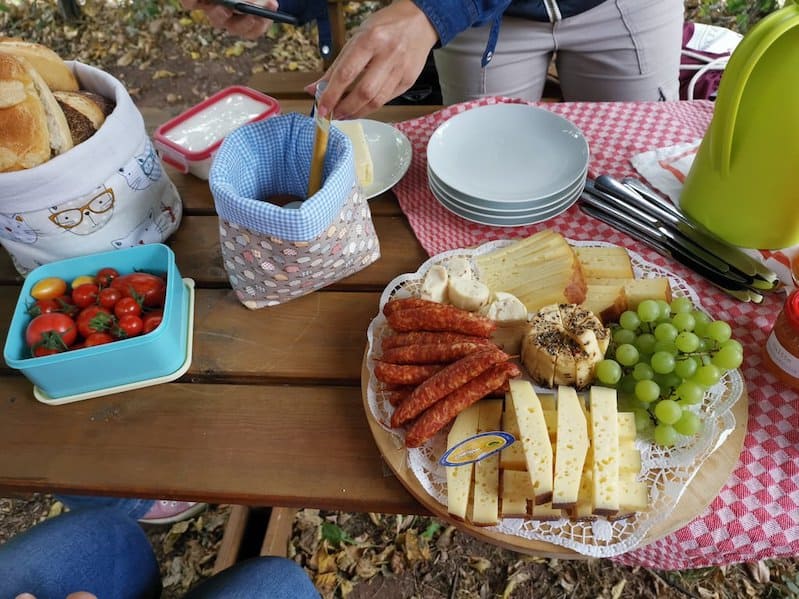 Der Rotweinkäse ist übrigens der vordere, also unten im Bild :)
Und hier der Hofladen: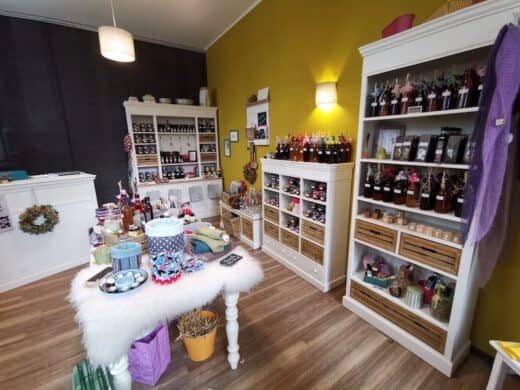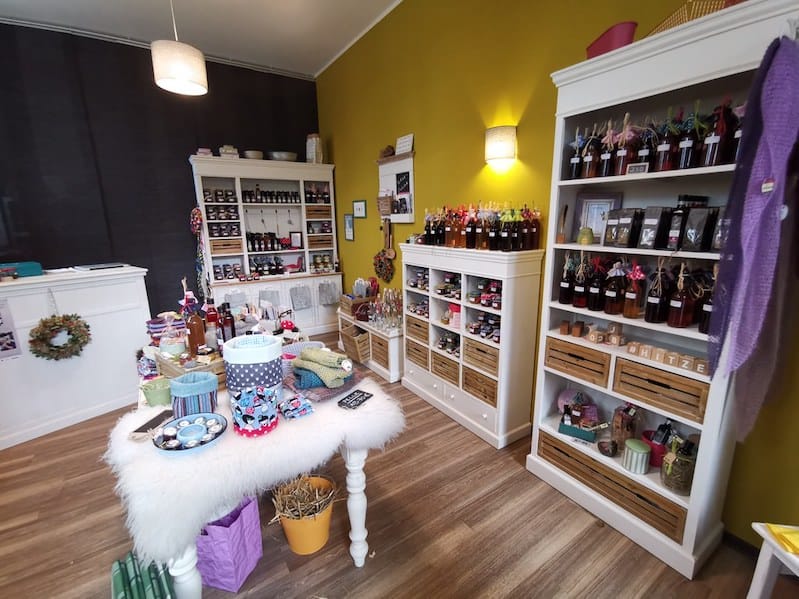 Die ganze Anlage ist sehenswert, eine schöne Mischung aus Gemüse Pflanzungen und "normaler" Garten, dahinter die Hühner und noch weiter hinten dann die Schafe!
Von hier ging es weiter zu einer Fotosession an einem der 25 Klöster im Kulturland Kreis Höxter, der Abtei Marienmünster (ehemaliges Benediktinerkloster):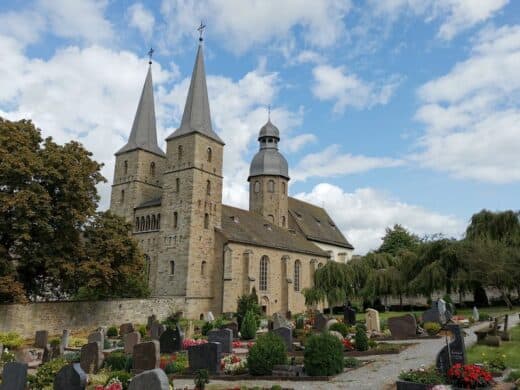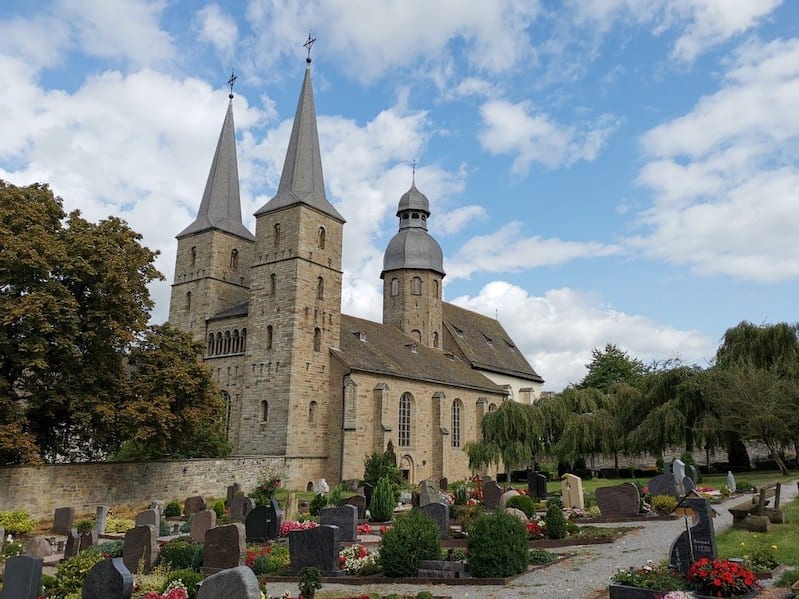 Und die ist nicht nur von außen mehr als sehenswert, sondern auch drinnen – unter anderem wegen der Original-Orgel von 1738! Hans Herman Jansen führte uns ein wenig in diese besondere Orgel ein und spielte das eine oder andere Liedchen – beeindruckend, was man da machen kann (später erfuhren wir noch, dass er bei einer Veranstaltung mit Motorradfahrern auch "Highway to hell" hier intoniert hat – das hätte ich gerne gehört ;)))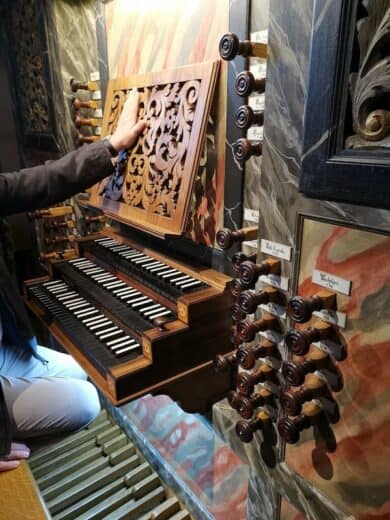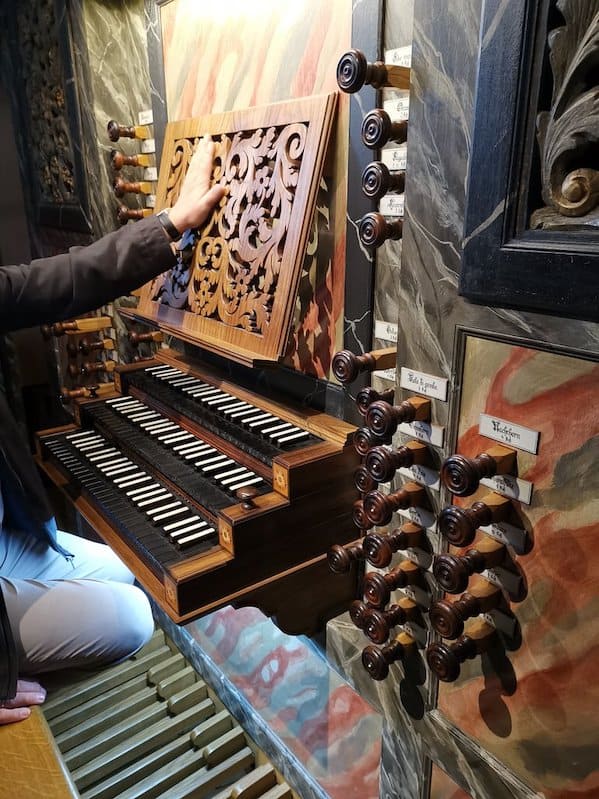 (Den Rest gibt es dann natürlich auch später noch drüben im Reiseblog ;))
Doch unser Tagesprogramm war auch da noch nicht zu Ende – ein Besuch bei Hanf-Zeit stand noch auf dem Plan. Bianca und Stefan Nöker-Wunderwald züchten und verarbeiten in Steinheim Hanf. Das war eine sehr interessante Einführung, ich wusste nicht, dass man mit Hanf auch bauen kann (und übrigens auch Panzer aufhalten).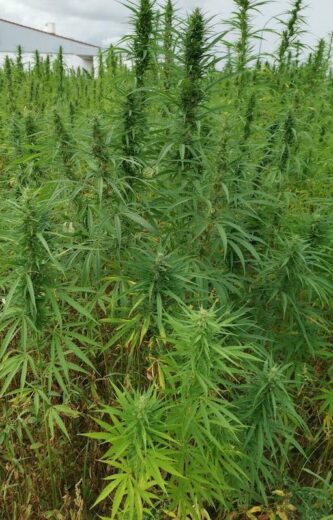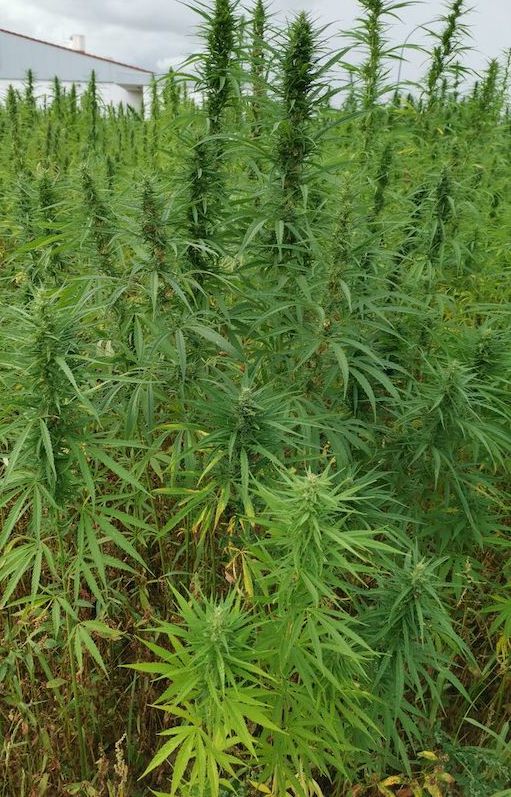 Und wenn Du jetzt hoffst, da was zum Rauchen rausziehen zu können: Vergiss es, der THC Gehalt liegt unter 0,2 % und ist damit als Rauschmittel vollkommen ungeeignet. Ich drücke fest die Daumen, dass die Petition zur klaren Unterscheidung zwischen gesetzlich zugelassenen Nutzhanfsorten nach EU-Liste und Betäubungsmitteln erfolgreich wird.
Der Abend schloss mit einem leckeren Abendessen im Hotel und schönen Gesprächen an der Hotelbar, wie auch am Abend zuvor.
Freitag ging es dann noch nach Warburg zum Hammerhof, wo wir mit dem Förster Jan Preller und der Pilzsachverständigen Nannette Sicke-Hemkes eine beeindruckende Tour durch das Wisentgehege gemacht haben. Hier muss ich euch allerdings ein wenig enttäuschen – das ist normalerweise nicht möglich, das 60 ha Waldgehege kann normalerweise nicht betreten werden. Für unseren Besuch durften die Wisente auf der Wiese ausharren. Und wir dafür diesen beeindruckenden Wald kenne lernen, der sich selbst und den Wisenten überlassen wird.
Dabei erfuhren wir einiges über den Lebensraum und die Geschichte der Wisente, die fast ausgestorben wären (tatsächlich gibt es auch keine reinrassigen Berg-Wisente mehr, da es nur noch einen Bullen, aber keine Kühe mehr gab). Und vieles über Pilze – unter anderem auch solche, die gar nicht als Pilze erkannt werden, wenn man es nicht weiss, dass das Pilze sind ;)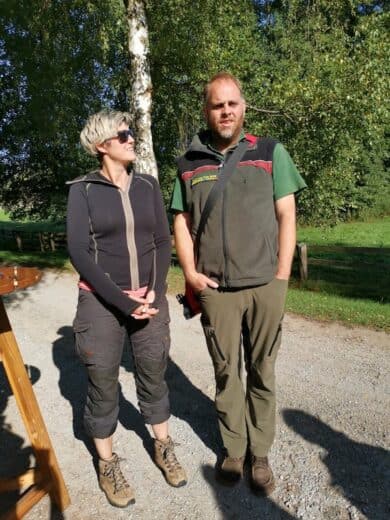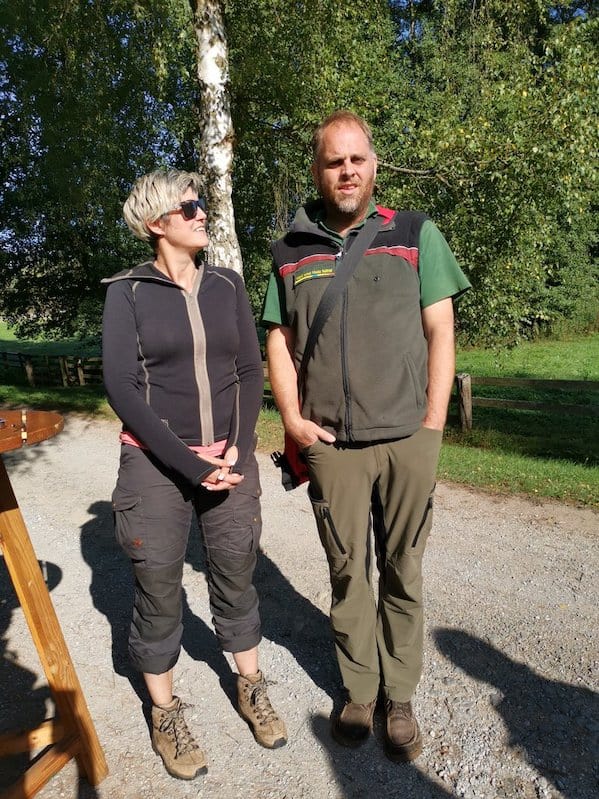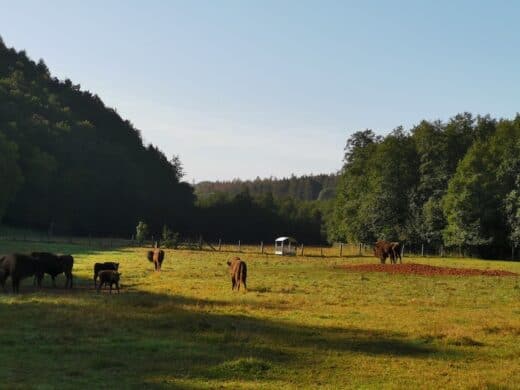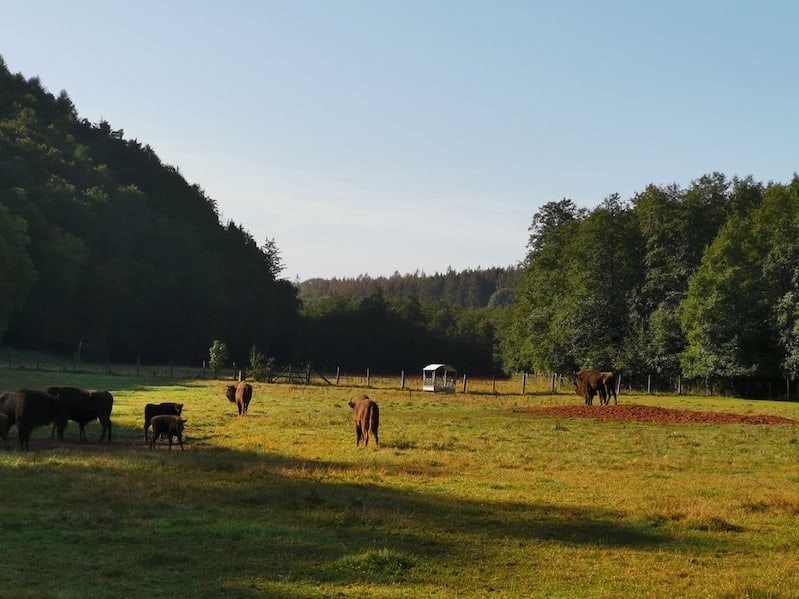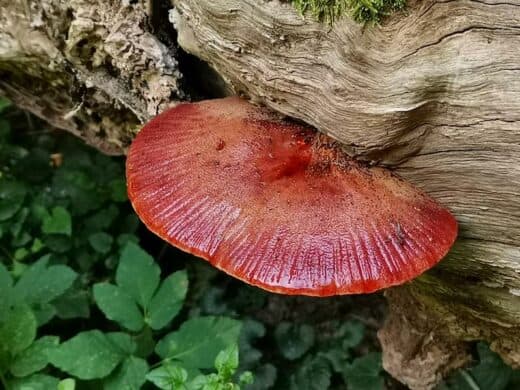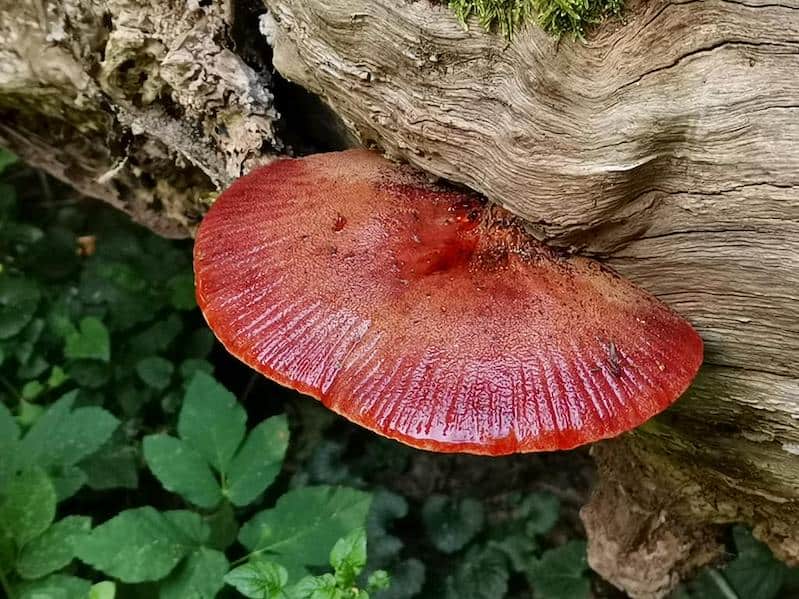 Mit einer großen Pilzpfanne (für meine Mitreisenden…) endete die Reise ins Kulturland Kreis Höxter und ich kann euch hier schon einen Besuch nahelegen. Zumindest dann, wenn ihr wie ich gerne schlemmt, wandert und euch alte Gebäude wie Klöster anziehen.
Die Rückreise startete wieder mit einem unangenehmen Verspätungsalarm, der Thorsten und mich im Eiscafe in Warburg ereilte – mein Zug nach Kassel sollte so viel Verspätung haben, dass die Umsteigezeit mit Bahnsteigwechsel in Kassel-Wilhelmshöhe auf 1-2 Minuten reduziert sein sollte. Kaum machbar und ich war mehr als dankbar, dass Thorsten mich dann spontan nach Kassel gefahren hat, so dass ich dort meinen Zug bekommen habe nach Stuttgart,
Der Abend gestaltete sich leider gar nicht so wie geplant, aber es ist manchmal wie es ist. Kein Wunschkonzert, das Leben :/
Am Samstagmorgen habe ich dann diesen Beitrag weitgehend geschrieben, danach ging es auf einen großen Spaziergang und dann zu Nic. Nachmittags dann der Entschluss, das Weindorf noch zu besuchen. Dort gab es dann das eine oder andere Glas Wein und auch was zu essen.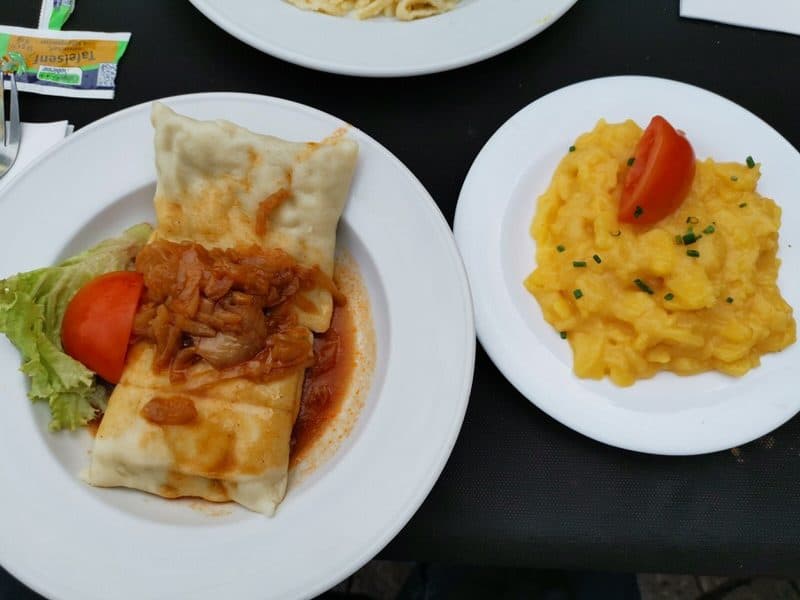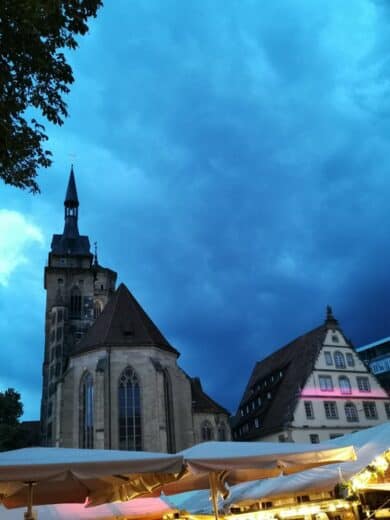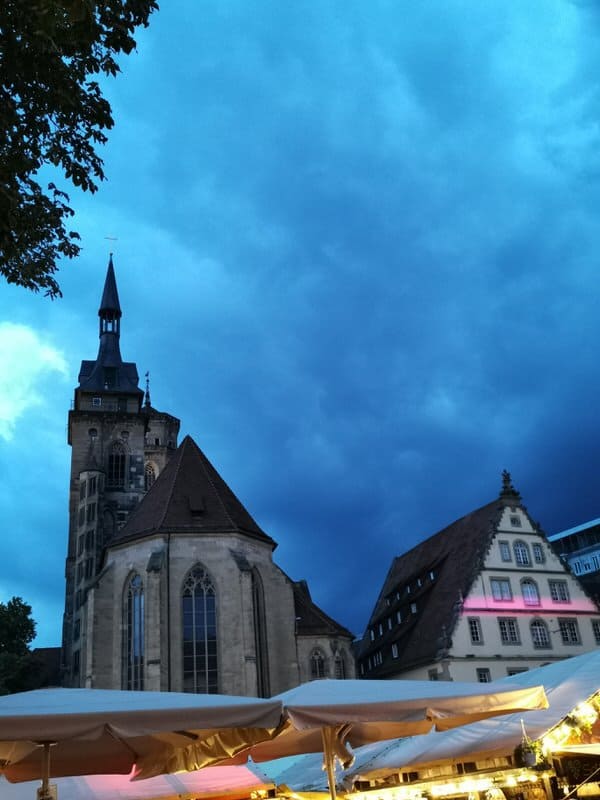 Nach dem letzte Glas Wein dann noch schnell nochmal einen Happen essen ;)))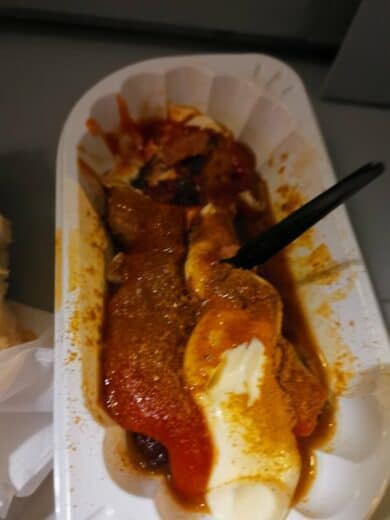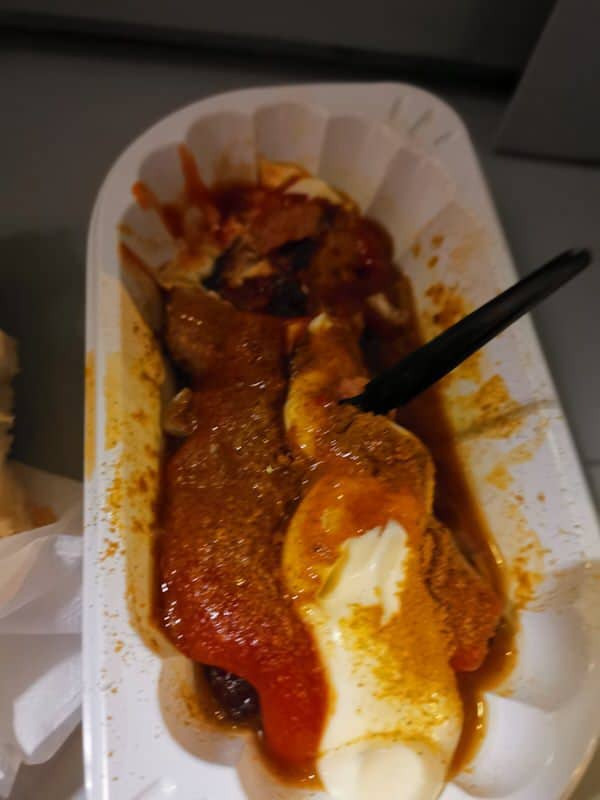 Die Nacht war dann lang (schlafend), es ist gerade 17:30 Uhr und wir sitzen immer noch im Bett, nur Frühstück habe ich so gegen 14 Uhr schon lecker bekommen: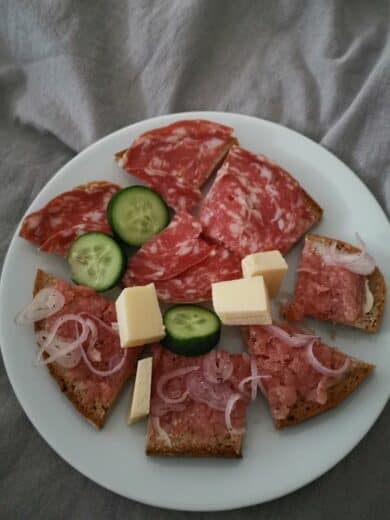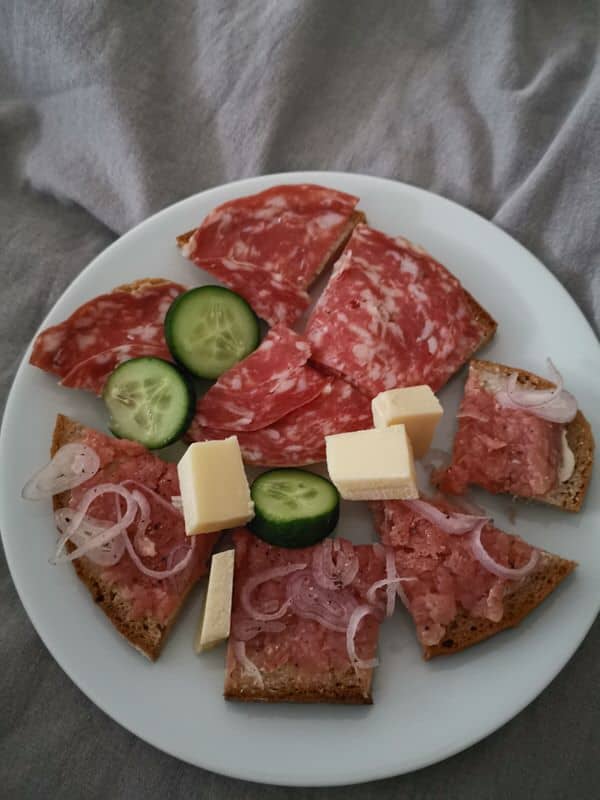 Und viel mehr wird heute auch nicht mehr passieren, daher geht der Beitrag auch gleich online. Nur noch ein paar Runden Shut the Box, denn zum Rausgehen ist das Wetter zu usselig…
Euch einen schönen Restsonntag…
Und was ist nächste Woche geplant?
Ungewohnt leer ist der Kalender. Nur #DHDL am Dienstag steht da drin bis Freitag. Am Freitag dann ein Besuch beim Augenarzt, endlich das Gutachten erstellen lassen, um die Sehhilfe aus dem Führerschein austragen zu lassen. Und wenn ich schon dabei bin, gibt es nebenan einen Besuch bei einer Allgemeinmedizinerin, endlich mal wieder eine Vorsorgeuntersuchung durchführen…
Dann besteht das restliche Wochenende aus dem Barcamp Stuttgart. Da freue ich mich natürlich besonders darauf, bedeutet es doch auch dass ich nun seit 10 Jahren auf Barcamps gehe, wenn ich mich nicht irre…
[grey_box]Ihr wollt schneller und "live" bei meinen Reisen oder Restaurantbesuchen dabei sein? Dann folgt mir doch bei
Instagram
und/oder
Twitter
. Auf Instagram sogar oft tatsächlich live mit den Instastories. Meist abends gibt es auf der
Facebookseite des Reiseblogs
dann auch eine kurze Zusammenfassung der Tage auf Reisen mit den Bildern vom Smartphone. Auch hier freue ich mich immer auf neue "Gefällt mir" – und mir helft ihr damit auch! Und einen Freßaccount habe ich auch bei Instagram,
hier geht's lang
. Nur Essensbilder…
Und wenn Du mir nun auch was Gutes tun willst – meinen Amazon Wunschzettel findest Du hier![/grey_box]
---
Anzeigen:
*) Erläuterung Affiliatelink: Wenn Du da drauf klickst und anschließend etwas auf der Seite bestellst, bekomme ich eine kleine Provision – Dein Preis ändert sich aber nicht. Du unterstützt damit meine Arbeit mit meinen Blogs. Und auch den finanziellen Aufwand, der mit dem Betrieb verbunden ist (Servermiete, Domain, kostenpflichtige Plugins, Speicherplatz für Backups etc…)
Ein interessantes quasi "kostenloses" Buch fange ich die nächsten Tage an zu lesen, es liegt schon einige Tage hier rum: "Kickstart Passives Einkommen – 8 geniale Erfolgsgeschichten für ein attraktives Passives Einkommen" – Du bezahlst lediglich Versand- und Postokosten…
Ich bin ja echt Fan von Amazon Prime. Meist keine Versandkosten, ordentliche Serien- und Filmauswahl (mein Netflixersatz) und Amazon Music als Ergänzung.