Der Montag startete spät, schließlich wurde es auch spät am Sonntag, da ich dann erst um 22:58 Uhr in Stuttgart ankam und es Zuhause definitiv dann zu heiß zum Schlafen war..
Am Abend gemütlich im Wilma Wunder gewesen mit meinen Reisebloggerfreunden Jan und Andre – leider kann ich die Maultaschen so gar nicht empfehlen, furchtbar trockene Geschichte :/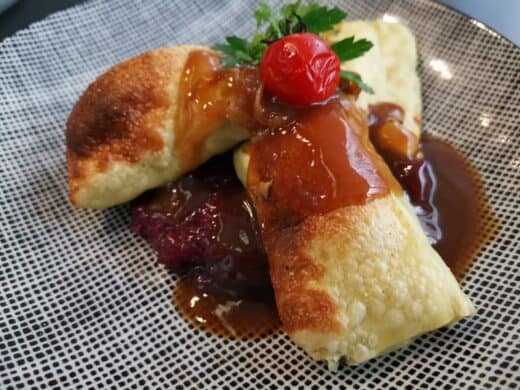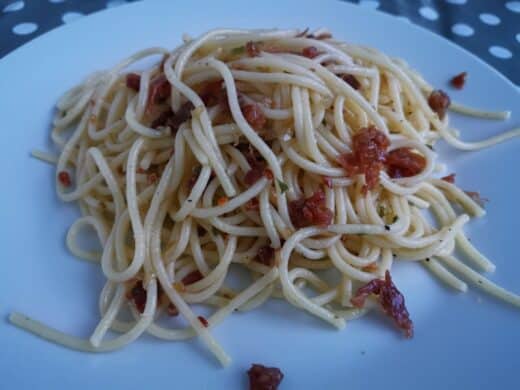 Spaghetti bei Nic auf dem Balkon *yummie*
Donnerstag nach der Arbeit war es soweit, das monatliche #SchnitzelS stand auf dem Programm, 9 angemeldete Teilnehmer – einer davon wie immer (wortwörtlich) nicht dabei. Weit raus getraut haben wir uns dieses Mal, der Gasthof Riedsee in Möhringen war unser Ziel. Das Schnitzel?
Verdammt gut – auch wenn ich enttäuscht wurde, denn die auf der Website angekündigten Kässpätzle stehen vor Ort nicht mehr auf der Karte. Aber das Essen war durch die Bank gut, egal ob mein Schweineschnitzel, die Bratkartoffeln, der Beilagensalat, die Maultaschen und nach den Angaben der anderen auch das Kalbsschnitzel.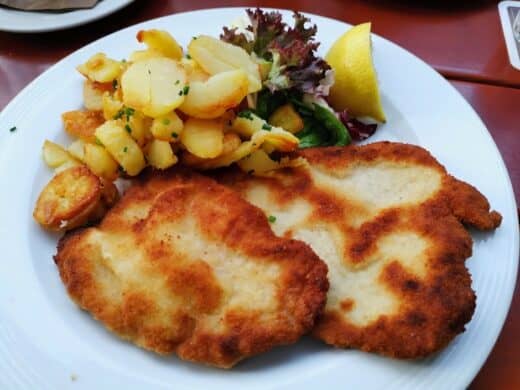 Danach noch einen kurzen Ausflug auf zwei Bier an den Palast der Republic, wo Nic mit ein paar Arbeitskolleginnen noch war, auch fein und gemütlich.
Freitagmorgen dann erst eine Weile im neue Hoodie mit Kaffee auf dem Balkon verbracht, dann ein wenig Hausarbeit vollbracht. Haare rasiert vom Kopf und das Kraut am Kinn gebändigt, gesaugt, Staub gewischt, Waschbecken geputzt und die Ablage erledigt. Und eine Minifuhre Wäsche lief auch durch, ein neuer Pulli wollte noch gewaschen werden…
Nebenbei mein neues Shut the Box (Link unten im ersten Anzeigenbereich) bei der Nachbarin abgeholt, gebloggt, neue N26 Karte bestellt nach dem Fail vom Mastercard Priceless Special Datenverlust.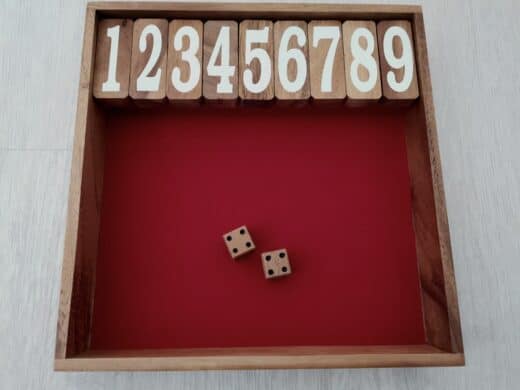 Und dann weiter Zeit verdattelt, so mit Hotelbuchung für die ITB 2019 (bin dann also wohl vom 03.-07.03.2020 in Berlin) und den Hinflug auch gleich dazu.
Am Nachmittag dann nach bestimmt einem Jahr endlich mir mal wieder eine Massage gegönnt – das hat gut getan! Dann endlich zu Nic und nachdem unser erster Anlauf, mit dem Schlemmerblock essen zu gehen, schief lief (das Restaurant hatte an dem Abend nur Buffet für 28 EUR/Person, das war uns dann doch etwas zu viel für diesen Abend), landeten wir vor der Dinkelacker Brauereigaststätte – und so wenig ich das normale Bier von denen mag, das Essen ist wirklich einwandfrei. Dieses Mal hatte ich das Cordon Bleu – und das hat einen sehr leckeren würzigen Schinken drin!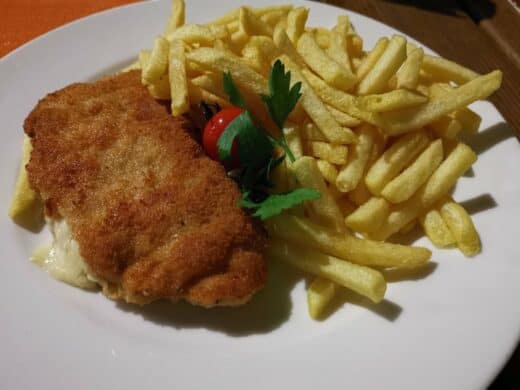 Samstag das gemacht, was wir schon lange mal machen wollten – einfach lange im Bett geblieben. Ohne Tagesplan, nur mit einer Idee, was wir machen könnten, falls wir Lust haben. Und so wurde es auch ca. 13:40 Uhr, bis wir uns tatsächlich auf eine kleine schöne Wanderung begeben haben.
Über die Hasenbergsteige, den Hasenbergturm ging es zu den Heslacher Wasserfällen (nicht nachmachen, der Zugang ist offiziell gesperrt):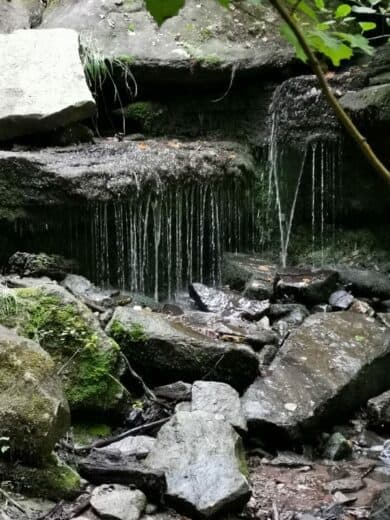 Dort trafen wir die spontane Entscheidung, noch raus zum Bärensee zu laufen – immer wieder schön da.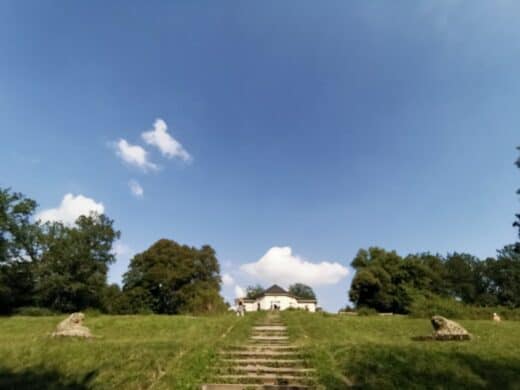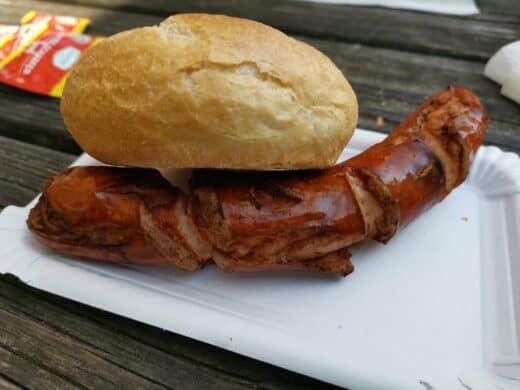 Weiter ging es Richtung Waldheim Heslach – wobei ich den Weg nich wirklich empfehle. Das erste Stück an den Seen lang ist noch ganz schön, wie dieses Bild vom Neuen See zeigt,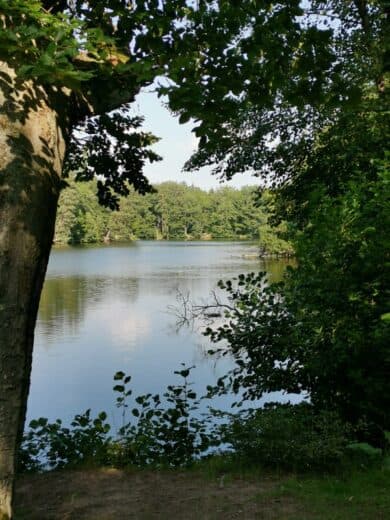 dann geht es aber immer relativ in der Nähe einer der Strassen lang und der Krach ist ned so prickelnd. Das restliche Stück dann auch noch auf Asphalt durch Dachswald, auch das ist weniger schön.
Dafür ist das Waldheim Heslach echt nett, eine riesen Location zum draussen sitzen. Dafür durfte ich ewig (40 Minuten) auf meine bestellten Bärlauchmaultaschen warten.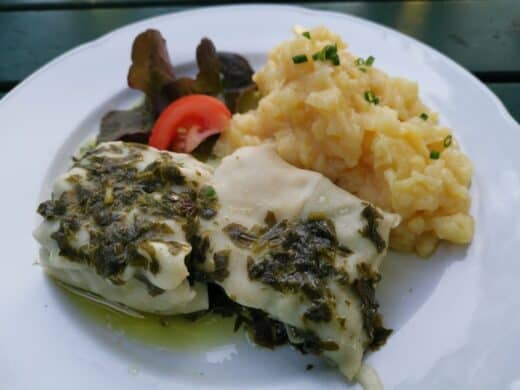 Die waren ziemlich lecker – der Kartoffelsalat aber leider kalt und damit ging auch die Hälfte davon zurück. Muss ich nicht haben.
Zurück gönnten wir uns ein SSB Flex, da die Gegend nur semitoll angebunden ist an den ÖPNV – und ich kann nur sagen, wer in Stuttgart wohnt und das nicht nutzt, wenn er es mal bequem haben will, tut mir leid. Und nein, ich habe immer noch keine Zusammenarbeit mit denen – ist meine eigene Meinung. 7,35 EUR haben wir zu zweit für die Fahrt gezahlt, ohne meinen VVS Ausweis wären es 8,xx EUR gewesen. Abholung etwas 200 m entfernt, Ankunft 50 m von Nics Zuhause. Großer Van von Mercedes, sehr gemütlich…
Der Abend endete, wie so oft, mit einem Glas Wein auf dem Balkon. Sehr gechillt.
Sonntag war ich gemütlich in Aldingen bei einem Weisswurstfrühstück mit meinen ältesten Freunden – sehr entspannt und ich bin begeistert, wie sich manchen Menschen in den letzten Jahren entwickelt haben.
Das war auch mal wieder richtig schön!
Nachmittags nach Hause, den Beitrag fertig schreiben, einen Koffer mit Chips packen (fragt nicht) und am Abend dann, zu Nic. Lecker Essen gehen steht auf dem Programm, einen Gutschein nutzen, den sie zum Geburtstag geschenkt bekommen hat von ihren lieben Kollegen*innen.
Und ich bin gespannt, ob der Beitrag zu der Zeit erscheint, auf den ich ihn gleich time.. WordPress macht das in letzter zeit leider sehr selten richtig… Das Abendessen seht ihr hier also nicht mehr….
Jetzt mal schnell vor der Wochenplanung kommender Woche ein kurzer Werbeblock:
---
Anzeige:
Diese Woche habe ich gekauft bei Amazon (Affiliate-Links – was ist das?):
Musste endlich mal sein, dass ich neben meinen großen Over-Ears von Bose auch mal Minis habe, die ich an Tagen ohne Tasche mitnehmen kann. Und da es auch noch 10,- EUR Nachlass drauf gab am Freitag, hab ich eben zugegriffen, auch wenn ich eigentlich diesen Monat nichts kaufen sollte.
Kein Bild zu sehen wegen Werbeblocker? Dann hier lang zu den Anker Soundcore Liberty Neo Bluetooth Kopfhörern.
Ich berichte dieser Tage dann auch mal, ob die was taugen bei dem Preis.
Und nachdem ich unser Shut the Box zu Nic gebracht habe, da ich derzeit öfter bei ihr als bei mir bin (wenn wir zusammen sind), habe ich mir noch ein zweites Shut the Box gegönnt – in groß, das darf hier Zuhause einfach rum stehen und muss dann ja nicht mit auf Reisen:
Kein Bild zu sehen wegen Werbeblocker? Dann hier lang zu dem Shut the Box.
---
Und was ist nächste Woche geplant?
Am Montag geht es nach Ewigkeiten mal wieder ins Mercedes-Benz Museum zur #mbsmn, also zur Mercedes Benz Social Media Night. War ich früher immer, jetzt schon bestimmt seit zwei Jahren nicht mehr.
Die Themen klingen spannend, wobei ich nicht weiss, wie viel von dem ersten Vortrag ich verstehen werde:
"YouTube and how brands today succeed on it" (englischer Vortrag)
Matthew Lindley (@YouTube)
Global Creative
YouTube & Unskippable Labs, Boston
"Facebook – Social Sales und andere innovative Usecases für Unternehmen"
Stefan Edl (@StefanEdl @FacebookDE)
Head Of Transformational Retail & Fashion DACH
Facebook Deutschland
Mittwoch steht der S.O.S. Stammtisch an – eigentlich hätte ich ja gerne mit den Igerstuttgart mitwollen zum Instawalk, aber da war ich nicht wichtig genug und die Verlosung brachte mir auch kein Glück.
Freitagabend soll die Burger Tour ausnahmsweise fremd gehen und Schnitzel essen, aber mal sehen, ob das stattfindet, so wenig Leute wie angemeldet sind. Sonst gehe ich vielleicht ins Panoptikum, mal wieder Chrissi lauschen!
Mehr ist nicht geplant, Sonntagmorgens halt Social Media Daten aktualisieren und Aufrufstatistiken erfassen… Mal sehen, vielleicht wird da auch noch eine Schifffahrt anstehen :)
[grey_box]Ihr wollt schneller und "live" bei meinen Reisen oder Restaurantbesuchen dabei sein? Dann folgt mir doch bei
Instagram
und/oder
Twitter
. Auf Instagram sogar oft tatsächlich live mit den Instastories. Meist abends gibt es auf der
Facebookseite des Reiseblogs
dann auch eine kurze Zusammenfassung der Tage auf Reisen mit den Bildern vom Smartphone. Auch hier freue ich mich immer auf neue "Gefällt mir" – und mir helft ihr damit auch! Und einen Freßaccount habe ich auch bei Instagram,
hier geht's lang
. Nur Essensbilder…
Und wenn Du mir nun auch was Gutes tun willst – meinen Amazon Wunschzettel findest Du hier![/grey_box]
---
Anzeigen:
*) Erläuterung Affiliatelink: Wenn Du da drauf klickst und anschließend etwas auf der Seite bestellst, bekomme ich eine kleine Provision – Dein Preis ändert sich aber nicht. Du unterstützt damit meine Arbeit mit meinen Blogs. Und auch den finanziellen Aufwand, der mit dem Betrieb verbunden ist (Servermiete, Domain, kostenpflichtige Plugins, Speicherplatz für Backups etc…)
Ein interessantes quasi "kostenloses" Buch fange ich die nächsten Tage an zu lesen, es liegt schon einige Tage hier rum: "Kickstart Passives Einkommen – 8 geniale Erfolgsgeschichten für ein attraktives Passives Einkommen" – Du bezahlst lediglich Versand- und Postokosten…
Ich bin ja echt Fan von Amazon Prime. Meist keine Versandkosten, ordentliche Serien- und Filmauswahl (mein Netflixersatz) und Amazon Music als Ergänzung.