Der Montag begann – mit einem Feiertag. Also richtig ausschlafen, zumindest theoretisch. Obwohl es sehr spät ins Bett ging am Sonntag war ich zeitig wach. Doch das war nicht schlimm, hab solange dieses Internet leer gelesen, bis mein Schatz wach wurde. Und dann die Zahlen für die Blogs aktualisiert, war ja schließlich auch Monatsanfang! Frühstück gab es natürlich auf dem Balkon, ist doch klar, oder: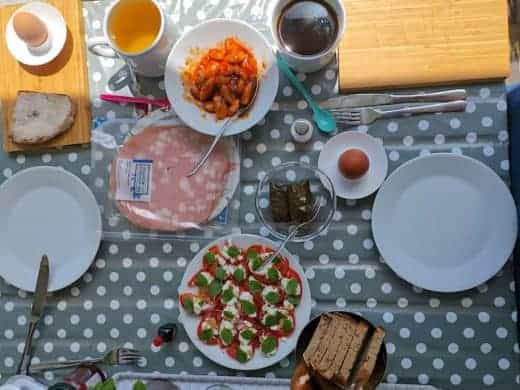 Spätstück auf dem Balkon
Und den Rest des Tages, tja, den verbrachten wir wieder auf dem Balkon, etwas gelesen, vor allem aber Podcasts habe ich bis zum Abendessen viel gehört. Leckere Hähnchenbrust Chicken Masala mit viel Knoblauch gab es dann. Sooooooo gut!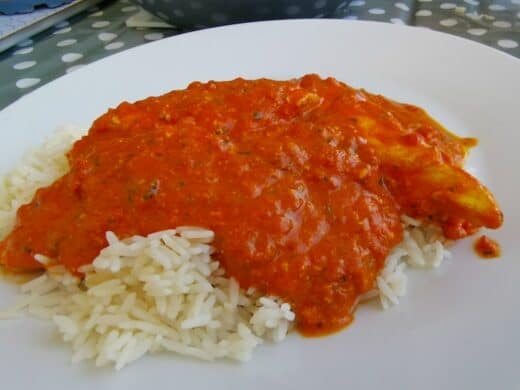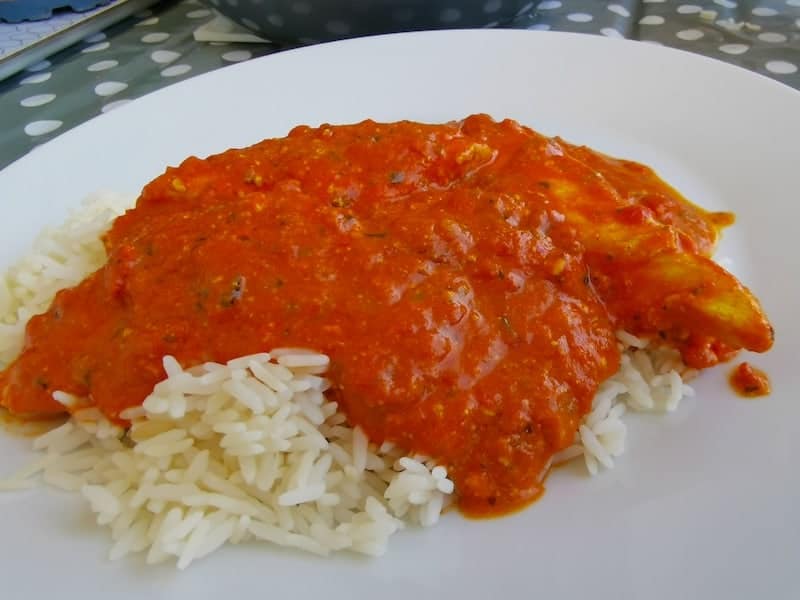 Zugegeben – optisch ist das kein Highlight, aber der Geschmack ist einfach fantastisch! Zum Ende des Abends gab es noch einige Dokus, unter anderem über Mallorca außerhalb der Saison. Würde ich echt gerne mal hin…
Dienstagmorgen führte mein Weg mich nach Hause und dann dauerte es etwas länger, bis ich mich einloggen konnte im Büro – der PC musste in Fellbach neu gestartet werden. Bin aber immer noch erstaunt, wie gut das jetzt seit Wochen alles klappt!
Der Arbeitstag verlief ohne große Auffälligkeiten, am Abend gab es dafür schlechte Nachrichten, die uns aufs Gemüt drückten :( Trotzdem verbrachte ich einen sehr langen Abend Zuhause auf dem Balkon, die Temperaturen waren so herrlich mild.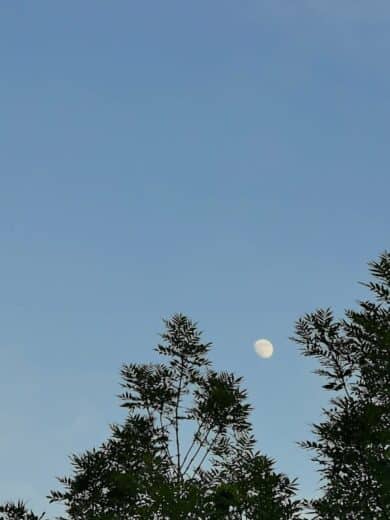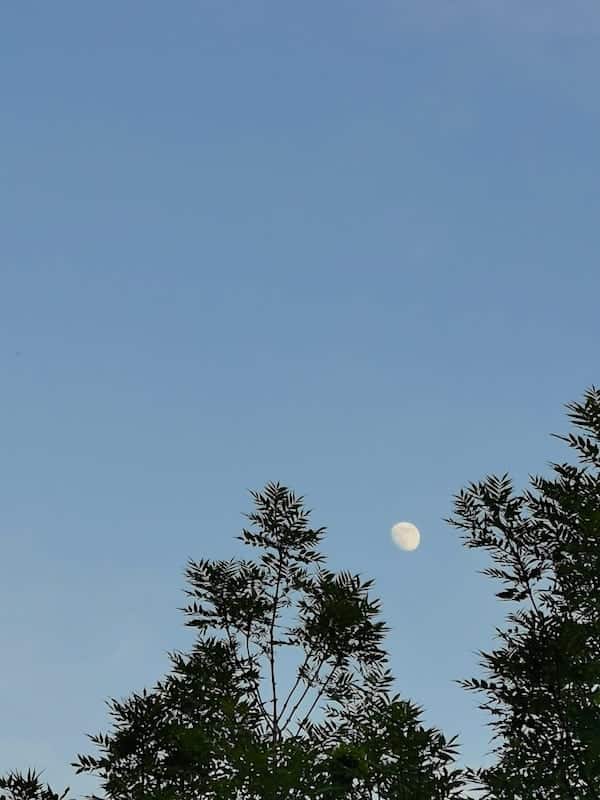 Auch am Mittwoch wurde es abends nochmal schön warm, obwohl der zwischenzeitliche Regen am Nachmittag die Temperaturen erst mal sinken lassen hatte, also gab es einen weiteren langen Balkonabend mit einem guten Glas Wein!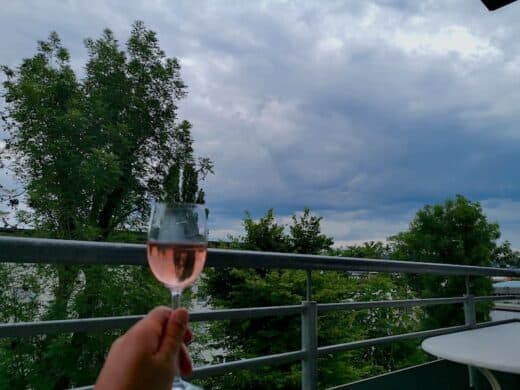 Donnerstag war es die meiste Zeit trüb, nur über Mittag kam ein klein wenig die Sonne raus, sodass meine Mittagspause wieder lange dauerte und ich einige Podcasts anhörte. Am Abend dann angefangen, diesen Beitrag zu schreiben und nebenbei das MacBook Pro aktualisiert. Auf eine nette Software für den Mac bin ich auch über t3n gestossen: Schaut euch mal Vidrio an, damit könnt ihr in Videokonferenzen mit eurer Webcam euer eigenes Bild transparent über den Bildschirm legen. Ganz nett, wenn man den Bildschirm teilt :)
Natürlich ging es auch an diesem Tag ein klein wenig noch auf den Balkon am Abend – während der iMac sein Update bekam ;) Lang war ich da aber nicht – es war dann doch etwas zu kühl. Dafür gönnte ich mir erst die letzten beiden Folgen #TheGoodFight (also der 3. Staffel, die bei Prime verfügbar ist). Und dann startete ich mit #Taken – oha, das war spannend, sodass ich gleich drei Folgen angeschaut habe bis tief in die Nacht.
Freitag schlief ich dann aus, also bis kurz vor 9 Uhr… Im Laufe des Tages kam dann meine VodafoneStation und nach der Installation wurde mein Vertrag auf Gigabit umgestellt.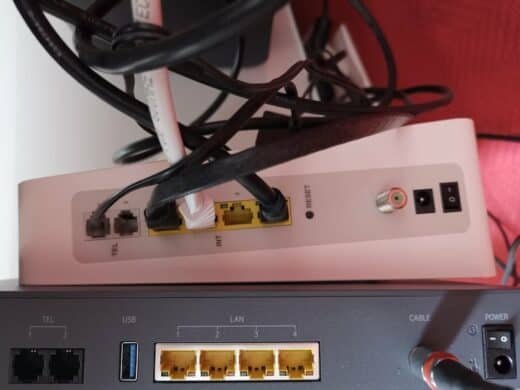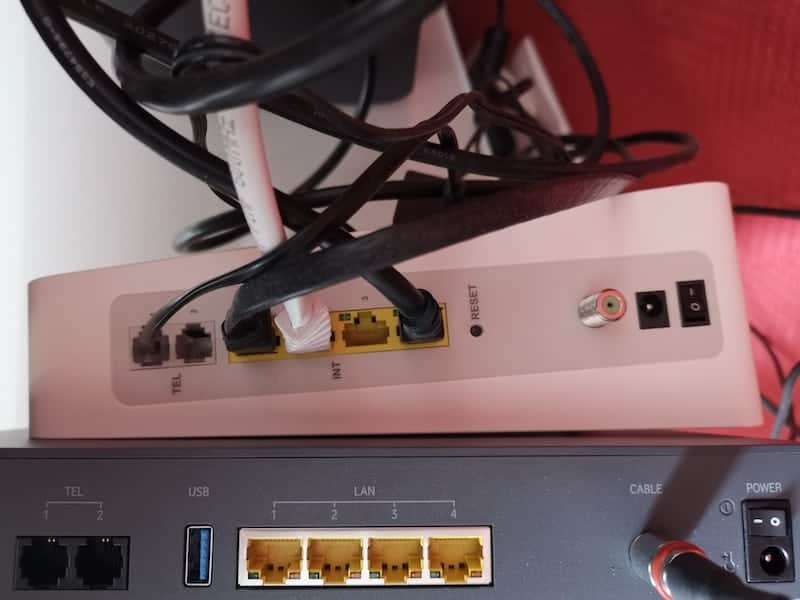 Sollte jetzt also günstiger werden mein Tarif bei höherer Leistung. Allerdings sagen die Speedtests, die ich gemacht habe, je nach Anbieter, dass ich weniger ankommende Geschwindigkeit habe als vorher. Das Vodafone Tool sagt über 900 MBit/s, speedtest.net hingegen unter 300 MBit/s. Muss ich mal beobachten. Wichtig ist auf alle Fälle: Man muss Geduld haben. Es dauert echt lange, bis alle Services verfügbar sind, Telefon hat fast eine Stunde gedauert….
Und weil ich schon dabei war und ein wenig Möbel schieben musste, hab ich den Amazon FireTV Stick auch gleich installiert…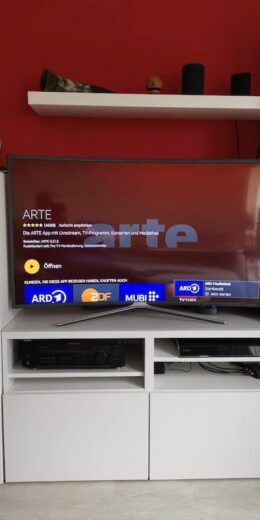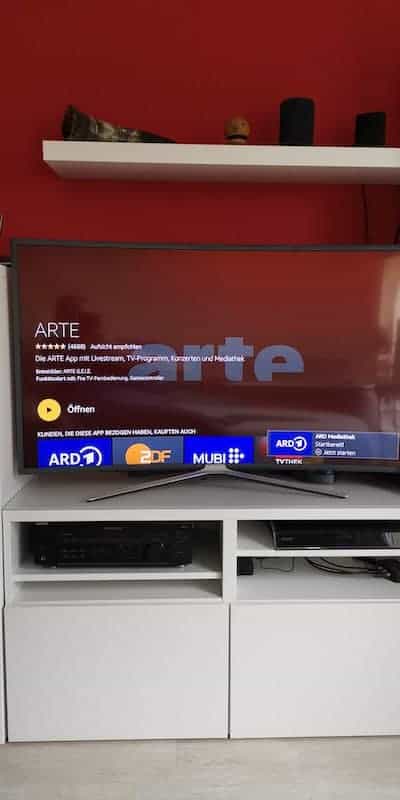 Später hab ich dann endlich meine Haare runter rasisert und mir seit langer Zeit wieder einen Badewannenbesuch gegönnt…
Am Abend durfte ich endlich zu meinem Schatz :) Da gab es dann direkt bei Ankunft Maultaschen mit Ei und danach einen gemütlicher Balkon-/Couchabend. Draussen beehrte uns auch eine Elster – finde ich ja ganz nett anzuschauen. Das Bild is halt "nur" mit dem Handy und massiven Zoom, daher ned so prickelnd.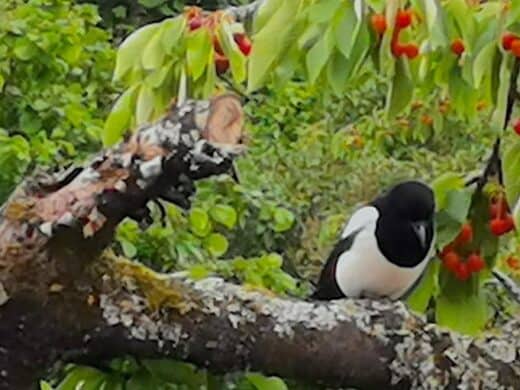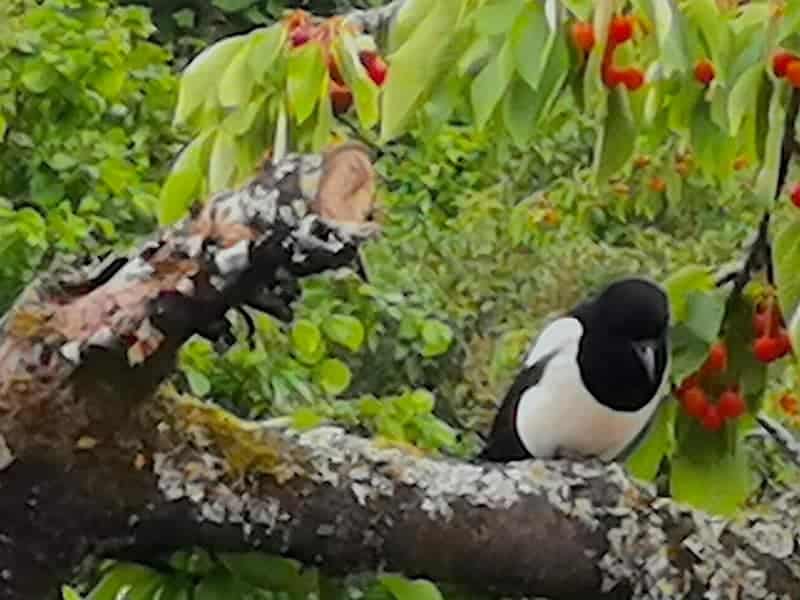 Die Wetteraussichten für Samstag waren miserabel – also blieb auch der Rolladen lang unten und wir sind erst am frühen Nachmittag aufgestanden. Dann aber doch raus auf dem Balkon. Ich hab schön die t3n weiter gelesen, waren einige spannende Artikel drin, auch zu Homeoffice und Co. Außerdem habe ich mir einen Rabattcode für meine Leser für das aktuelle Luminar 4 Bundle angefordert (mehr dazu im Anzeigenblock).
Am Abend wurde ich mit asiatischen Essen verköstigt, das war fein, kam aber nicht ganz an das extrem knoblauchlastige Chicken Masala ran ;)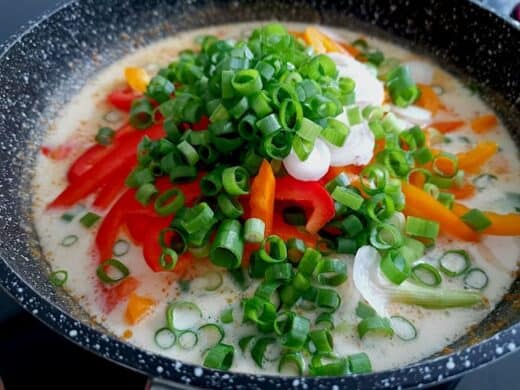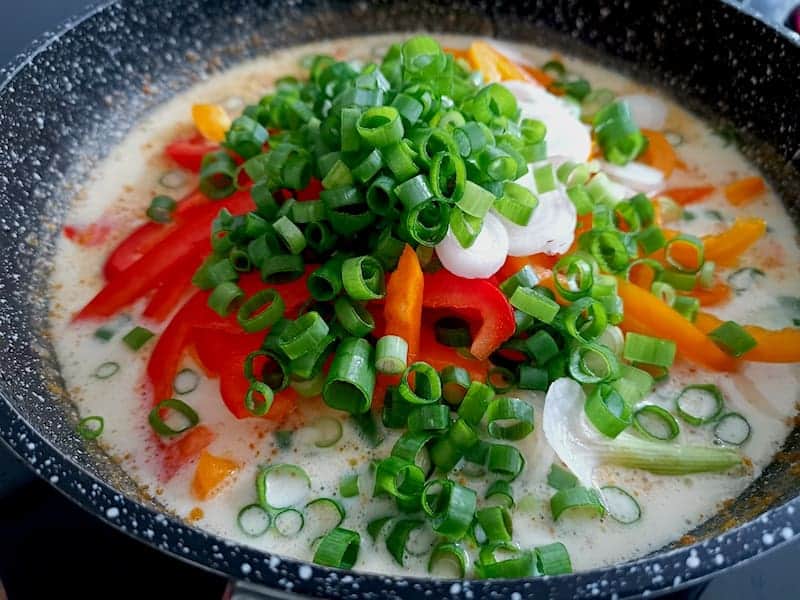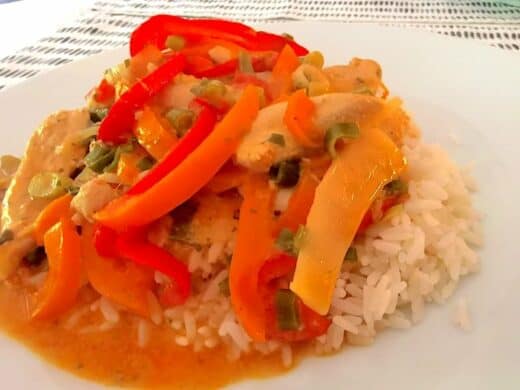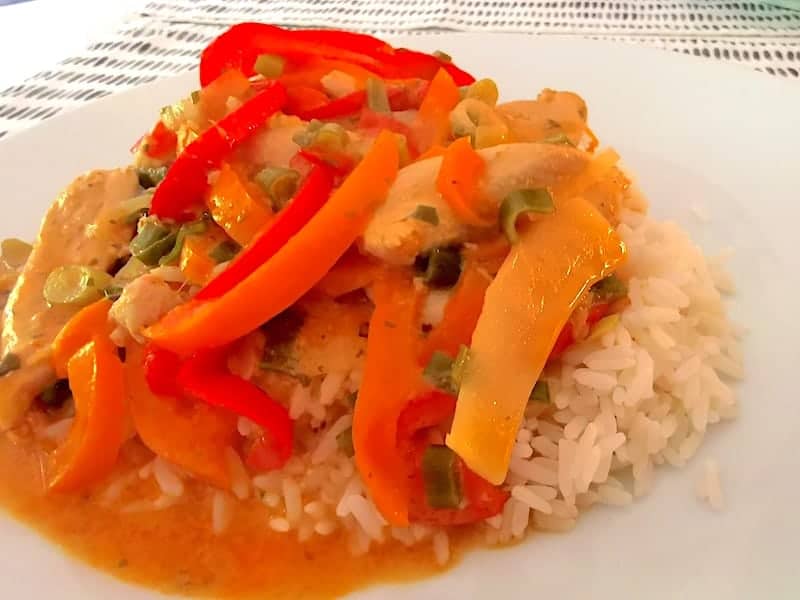 Später schauten wir Ratatouille an – ist halt schon ein toller Film, ich mag den!
Heute sind wir für unsere Verhältnisse reicht zeitig raus – und ich direkt auf den Balkon. Wobei das im Laufe des Tages eher frischer wurde, sodass irgendwann der Hoodie in Einsatz kam :/
Gefrühstückt wurde daher drinnen – dafür umso leckerer!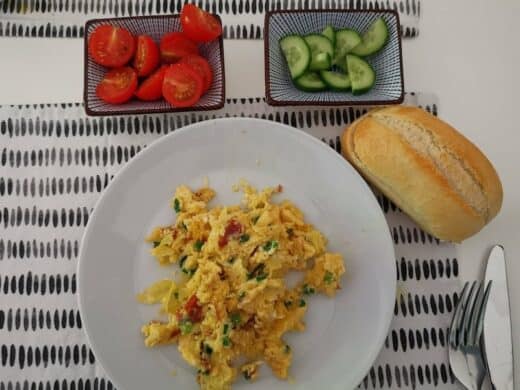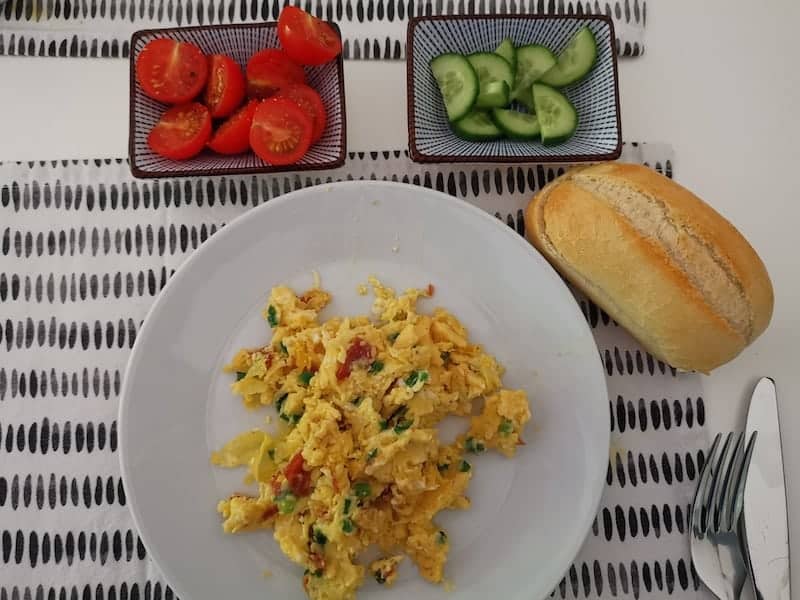 Beim heutigen Mixed Post in der Bloggerday Gruppe hab ich dann ganz erstaunt festgestellt, dass die meisten offenbar tatsächlich Trello nutzen für ihre To-Dos. Auch spannend. Apropos spannend – wer die Eisenhowermethode mag, da hbe ich dieser Tage auch was schönes entdeckt: Eisenhower Matrix online
Die t3n hab ich auch ausgelesen, lohnt sich diesen Monat wirklich!
Gegen 16 Uhr hat sich dann fast die Sonne mal sehen lassen und es wurde auch ein klein wenig angenehmer. Hat leider nicht lange angehalten und kurz vor 18 Uhr hab ich aufgegeben und meinen Schatz überredet, rein zu gehen. Immerhin 7,5 Stunden waren das dann trotzdem heute auf dem Balkon bei unter 17 Grad :/
Das heutige Abendessen haben wir mal wieder bestellt – ich wollte mal Thios Inn probieren. Für mich gab es gefülltes Bifteki mit Pommes, Nic wollte Gyros mit Pommes, Tsatziki und extra Tsatziki. Und weil ich ja extrem neugierig bin, hab ich auch noch Soutzoukakia dazu bestellt, nach meinem Verständnis griechische Cevapcici. Nun, im Ergebnis hätten wir auch essen gehen können für das Geld ;)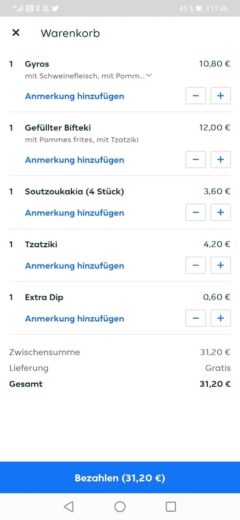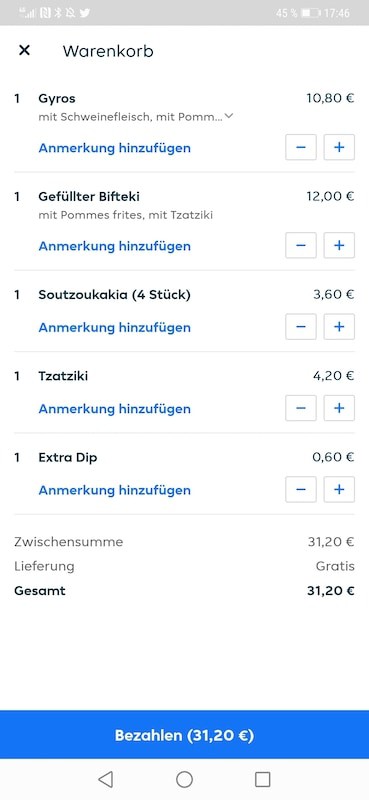 Und so sah das dann aus: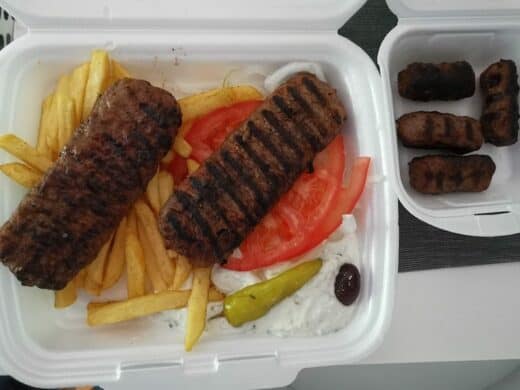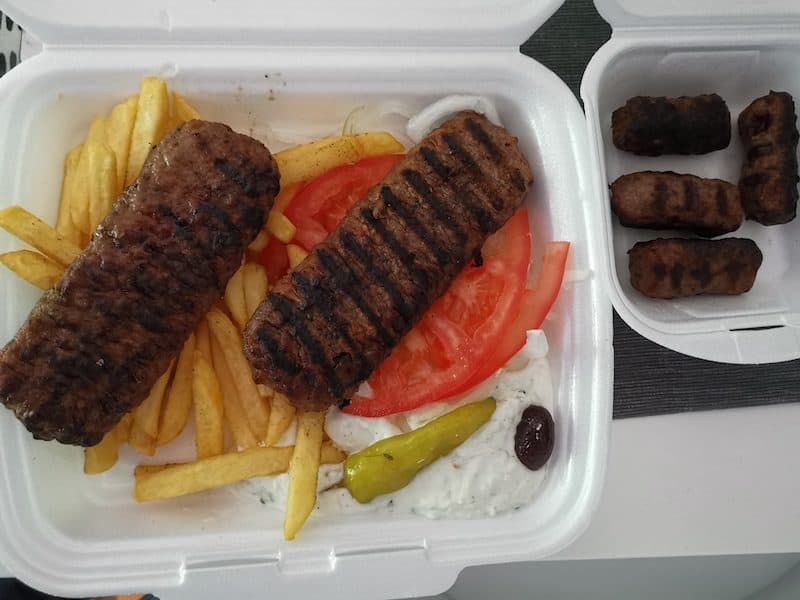 Naja, das Bifteki war nicht meins. Recht süsslich, keine Ahnung mit was das gefüllt war, ein üblicher Schafskäse war das für meinen Geschmack eher nicht. Die Soutzoukakia und Nics Gyros hingegen waren lecker!
Und damit ende ich auch für heute, nachher gibt's noch ein paar Dokus :)
Denkt an das Luminar Angebot im folgenen Anzeigenblock ;)
Bleibt gesund!
---
Anzeige (Affiliatelinks*)):
Heute mal eine Vorbemerkung, weil es offenbar nicht allen klar ist. Wer über einen diesen Links etwas bei Amazon bestellt, der/die sorgt dafür, dass ich eine kleine Provision bekomme. Eurer Preis ändert sich dadurch aber nicht. Wer also eh vor hat, was bei Amazon zu kaufen – der darf mich und meine Blogarbeit so gerne unterstützen.
Diese Woche gekauft:
Bei Butlers gab es einen schönen Tisch für den Balkon – kein Affiliatelink.
Außerdem habe ich nochmal Wein nachbestellt, der Rose, der Sauvignon Blanc und der Weissburgunder vom Schloßmühlenhof haben uns es schon angetan :)
Meinen Wunschzettel bei Amazon könnt ihr euch trotzdem mal anschauen ;)
Und für all die, die sich ein wenig für einfache Bildbearbeitung interessieren: Es gibt bis zum 15.06. ein hammer Angebot für drei verschiedene Luminar 4 Bundles – und mit dem Code "travellerblog" bekommst nochmal 10 EUR Nachlass, so das dass das günstige Bundle bei 69 EUR liegt. Deutlich unter dem Preis, was Luminar 4 sonst so alleine kostet. Folgende Bundles stehen zur Auswahl:
Basic-Bundle-Angebot: Luminar 4 + Burst of Drama Sky Paket von Stefan Schäfer + 10 Euro Rabatt bei Gearflix.com + CHIP FOTO-VIDEO Ausgabe 6/20 gratis für 79 € (69 € mit meinem Code)
Creative-Bundle-Angebot: Luminar 4 + Burst of Drama Sky Paket von Stefan Schäfer + 10 Euro Rabatt bei Gearflix.com + CHIP FOTO-VIDEO Ausgabe 6/20 gratis + Family Portrait Looks + Kapitel aus "So geht das in Luminar 4"+ komplette Version Steganos Privacy Suite für 89 € (79 € mit meinem Code)
Pro-Bundle-Angebot: Luminar 4 + Burst of Drama Sky Paket von Stefan Schäfer + 10 Euro Rabatt bei Gearflix.com + CHIP FOTO-VIDEO Ausgabe 6/20 gratis + Family Portrait Looks + Kapitel aus "So geht das in Luminar 4"+ komplette Version Steganos Privacy + Cinematic Looks + Pictrs Professional Plan 12 Monate gratis für 99 € (89 € mit meinem Code)
Zur Aktionsseite von Luminar geht es hier lang!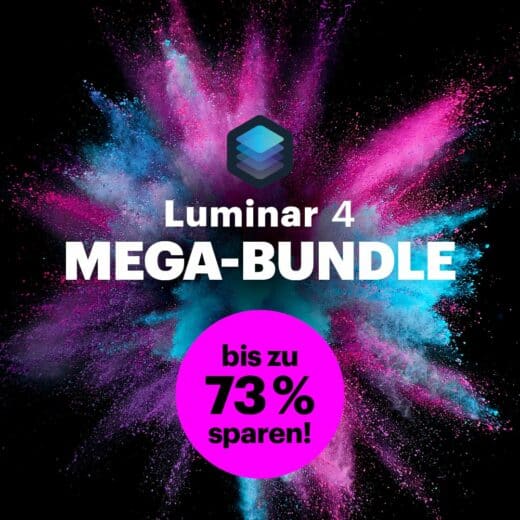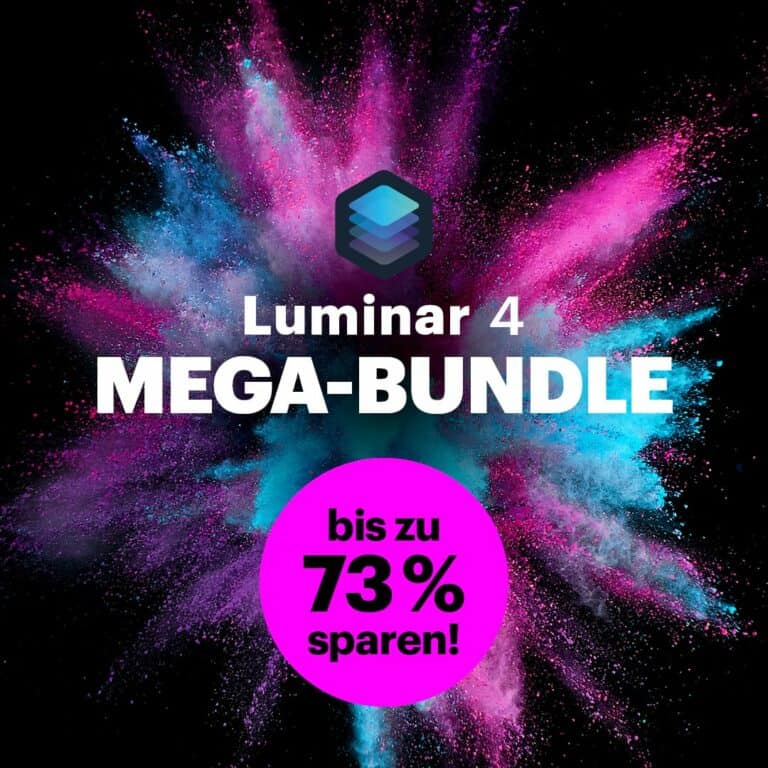 ---
Und was ist kommende Woche geplant?
Grusliges. Dienstag muss ich das Homeoffice verlassen und ins Büro. Zum Mitarbeiterjahresgespräch. Vor dem Gespräch sorge ich mich zwar nicht, aber davor, S-Bahn fahren zu müssen und daher auch an den Bahnhof. Das schmeckt mir halt so überhaupt gar nicht. Vollkommen unnötiges Risiko bei zu vielen unvernünftigen Menschen, wie ich über die Tweets der anderen Menschen, die ich so kenne, mitbekomme :(
Mittwoch ist dann mein erster Sozialkontakt außerhalb des Büros und außer nic geplant: Draussen auf ein Feierabendbierchen mit meinem wohl ältesten Freund. Freue mich mega drauf!
Wie wir dann das (zumindest für mich) lange Wochenende verbringen, schauen wir mal. Vielleicht mal meine Markiese aufbauen und die Balkonstühle lasieren, Nic war so lieb und hat alles Nötige dafür im Baumarkt besorgt….
Wissenswertes über mich auf Reisen
Ihr wollt schneller und "live" bei meinen Reisen dabei sein? Dann folgt mir doch bei Instagram und/oder Twitter. Auf Instagram sogar oft tatsächlich live mit den Instastories. Meist abends gibt es auf der Facebookseite des Reiseblogs dann auch eine kurze Zusammenfassung der Tage auf Reisen mit den Bildern vom Smartphone. Auch hier freue ich mich immer auf neue "Gefällt mir" – und mir helft ihr damit auch! Und das eine oder andere Bild soll es auch bei Pinterest von mir geben. Dorthin dürft ihr natürlich die Bilder auch gerne pinnen!
Hinweis: Alle Bilder sind, trotz dass sie noch recht groß sind, einigermaßen für das Web optimiert und damit spätestens auf einem Retinadisplay nicht mehr 100 % scharf. Das nehme ich bewusst in Kauf. Die Originale habe ich natürlich trotzdem- Falls ein Partner bedarf haben sollte, können wir uns gerne austauschen, wie wir ins Geschäft kommen!
Wenn Du mir nun auch was Gutes tun willst – meinen Amazon Wunschzettel findest Du hier!

---
Anzeigen:
*) Erläuterung Affiliatelink: Wenn Du da drauf klickst und anschließend etwas auf der Seite bestellst, bekomme ich eine kleine Provision – Dein Preis ändert sich aber nicht. Du unterstützt damit meine Arbeit mit meinen Blogs. Und auch den finanziellen Aufwand, der mit dem Betrieb verbunden ist (Servermiete, Domain, kostenpflichtige Plugins, Speicherplatz für Backups etc…)
Ich bin ja echt Fan von Amazon Prime. Meist keine Versandkosten, ordentliche Serien- und Filmauswahl (mein Netflixersatz) und Amazon Music als Ergänzung.