Was für eine Woche…
Montag starte ja einsam zu Hause, dafür früher also sonst im Büro. Das war natürlich auch gut, so konnte ich einiges erledigen, bevor ich sporadisch beim DOPiX Tag reinschaute. Und im Nachhinein hab ich mich ein wenig geärgert, dass ich mir nicht mehr Zeit genommen habe, denn vielleicht hätte ich noch ein paar Inspirationen mehr mitnehmen können. Wobei ich bei einigen spannenden Teilen die Preise nicht kenne und am Einkaufsprozess im Betrieb ja nicht beteiligt bin.
Abends habe ich dann erst mal gekocht und eine vereinfachte Carbonara gemacht: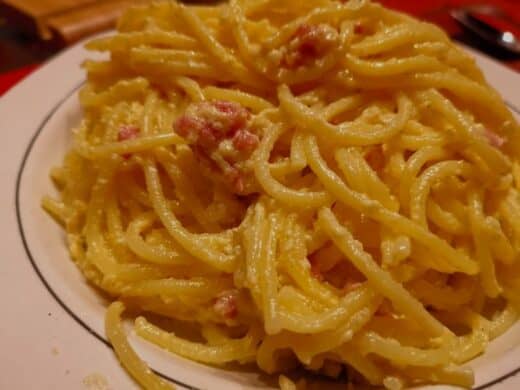 Meine Sparversion einer Carbonara
Dann hab ich mich via Zoom mit meinen Stuttgarter Reisebloggern getroffen, das war auch recht nett :) Beschlossen habe ich den Abend ebenso wie am Dienstag mit ein paar Folgen Suits… Und einer schlechten Nachricht, den in meiner engsten Verwandtschaft, da wo es kritisch ist, wurde eine Coronainfektion festgestellt. (Danke an meinen Schatz an der Stelle, dass Du da gleich mich angerufen hast, weil Du für mich da bist…)
Dienstag gab es dann wieder eine Menge GoToMeetings… Für mich am interessantesten war das GTM des Kommunikationsteams zum Kulturwandel, denn da würde ich mich gerne noch mehr einbringen. Denn zumindest "gelb" (Wissenteilen/-vermittlung) und "aqua" (Vernetzung) – beides stark verkürzt, sind für mich als alten Barcamper natürlich Kernthemen.
Ansonsten habe ich am Dienstag (jetzt) angefangen, diesen Artikel zu schreiben – der letztwöchige Beitrag hat mir gezeigt, dass Erinnerungen zu schnell verschwinden und gerade Learnings verloren gehen. Nicht wirklich verloren, aber aus dem aktiven Wissen. Wenn ich einen Trigger bekomme zu dem Thema. Dann fällt mir das bestimmt wieder ein – aber eben nicht im Rückblick auf die Woche. Also will ich alle 1–3 Tage zumindest hier künftig rein kritzeln.
Am Ende des Tages stand wieder eine lange Suits Couch Session an.
Mittwoch wurde wieder ein langer Tag, 9h gearbeitet, und irgendwie gefühlt den halben Tag telefoniert. Das waren aber auch viele interessante Telefonate und wenn alles gut läuft, darf ich nächstes Jahr noch ein wenig mehr Zeit für Aufgaben reservieren, die mir mega Spaß machen. Zwischendurch "lange" Mittagspause, knapp über eine Stunde, da es endlich mal wieder richtig warm auf dem Balkon war. Und dann noch eine Ask me anything Session mit meinem Lieblings-Vorstand, das war auch ganz interessant und nun warte ich gespannt auf den "Digital Insurance Podcast" mit ihm ;) Und der Tag brachte sehr überraschendes: Gleich von zwei Kolleginnen ein Lob/Danke, dass ich mit im Boot bin, wenn es um Kulturentwicklung geht. Da ging mir schon ziemlich das Herz auf, denn so was bekomme ich selten bei der Arbeit. Aber auch das ist vielleicht ein schönes Anzeichen des Kulturwandels!
Außerdem habe ich mich ein wenig über ein Muster vom BMF gewundert. Dort gibt es beim Muster II für die Kapitalertragsteuerbescheinigung nun die Fußnoten 4, 5, 2, 3. Genau in der Reihenfolge. Die "1″ habe ich bislang nicht entdeckt.
Am Abend konnte ich damit anfangen, Mails und Feeds abzuarbeiten – bis ein Meetup anfing, in dem es um "MS Teams – 1 Jahre private Channels" ging. Das wird spannend, bin eh schon neugierig, wie das bei uns im Unternehmen wird. Also ob das mit Einführung irgendwann klappt und wenn ja, wie es eingerichtet sein wird (und ja, ich nutze die Chats schon, da ich als Projektmitarbeiter einem Team hinzugefügt wurde). Anyway – durch das Meetup sind mir da einige Stolperfallen bewusst geworden ;)
Anschließend ging es noch einmal zu Suits… Allerdings nur für eine Folge, denn es war schon spät.
Donnerstag habe ich gefühlt wieder den halben Tag telefoniert, aber wenigstens auch das Testen von Briefen fast fertig bekommen. Und morgens gab es einen Lichtblick, auch wenn das Handy das nicht wirklich einfangen konnte: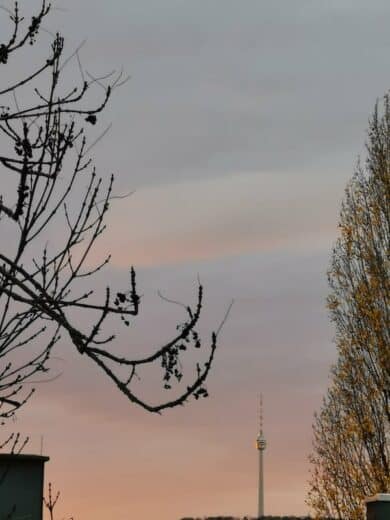 Nachmittags konnte ich dann einem Kollegen noch kurz eine kurze Einweisung in Confluence geben, jetzt mal schauen, ob er da auch ein wenig mehr macht.
Leider gab es danach am späten Nachmittag und am Abend weitere schlechte Nachrichten :/ Ich habe danach mir erst mal den VPN Zugang auf dem Notebook eingerichtet und anschließend den Koffer für Notfälle gepackt. Sicher ist sicher. Anschließend den Feedreader ein wenig geleert und dann war es auch schon 21 Uhr und die Alex & Ragnar Show begann. Die war wieder recht spannend, auch wenn ich mir unter einem Governancetool etwas anderes vorgestellt (erhofft) hatte. Bis lang in die Nacht gönnte ich mir dann noch Suits.
Um dann Freitagmorgen dennoch relativ zeitig zur #HomeOfficeLiebe zu sein und nach einem Anruf auch wieder besser gelaunt zu sein. Die persönliche Coronasituation scheint doch (noch?) nicht ganz so schlimm zu sein, wie es sich gestern anhörte.
Freitag konnte ich dann relativ viel mal für die Firmenkultur und (eher inoffiziell) Kommunikation machen – nach 14 Uhr war der Großrechner eh planmäßig mehr erreichbar.
16:30 Uhr war es dann endlich, endlich so weit: Mit vollem Rucksack ging es zu meinem Schatz <3
Die hat dann leckerst für uns gekocht, es gab Köttbullar und Kartoffel-Pü ;)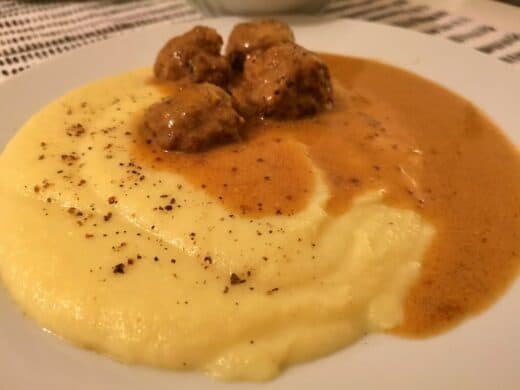 Das war fein. Der Abend wurde nicht lang, ich war so todmüde, dass ich schon kurz nach 22 Uhr ins Bett bin…
Samstag habe ich mir erst eine halbe Stunde auf dem Balkon gegönnt, nach dem Spätstück ging es dann eine runde spazieren in Halbhöhenlage. Da haben wir einige mega schöne Häuser gesehen und in eines hab ich mich schon fast verliebt. Sowohl das Haus selbst als auch die gesamte Anlage ist so liebevoll gestaltet!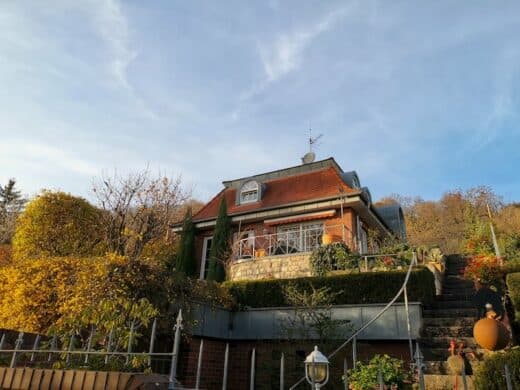 Gut 1,5 Stunden waren wir unterwegs, leider nicht alleine, sodass ich doch recht oft den Urbandoo hochziehen musste, denn die Wege waren eng.
Zurück Zuhause dann einen neuen Glühwein getestet – der ist gar ned mal übel, einen Tacken zu süss zu Beginn, aber das gibt sich gegen Mitte der Tasse. Wobei ich den von vorletzter Woche dann trotzdem etwas gefälliger fand.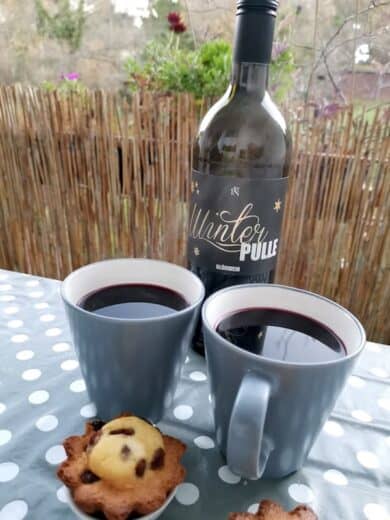 Abends wurde ich dann dazu verdonnert, Kartoffeln zu schälen. Das mache ich ja schon so nicht gerne, aber mit kleinen Kartoffeln ist es noch mal lästiger. Dazu dann noch Knoblauch und Schalotten – und das Ergebnis wurde lecker, wenn es auch ganz simples Gericht war: Spinat mit Kartoffeln und Spiegelei ;)
Die Nacht wurde dann das Gegenteil vom Vortag – bis früh in den Morgen gab es Marvel Filme: "Thor. The Dark Kingdom", "The Return of the First Avanger" und zu guter Letzt auch noch "Guardians of the Galaxy"…
Und somit wurde folgerichtig der heutige Sonntag sehr faul und ich habe den Stbnhckr Livestream direkt aus dem Bett angeschaut. Spätstück gab es dann auch erst kurz vor 15 Uhr in Form von ein paar Toastbroten im Bett und hier tippe ich auch noch den Beitrag bis hierher ;)
Viel mehr ist heute auch nicht passiert. Außer, dass ich eben zu unserem Lieblings-Thai marschiert bin und zwei Abholboxen leckerstes Essen abgeholt habe: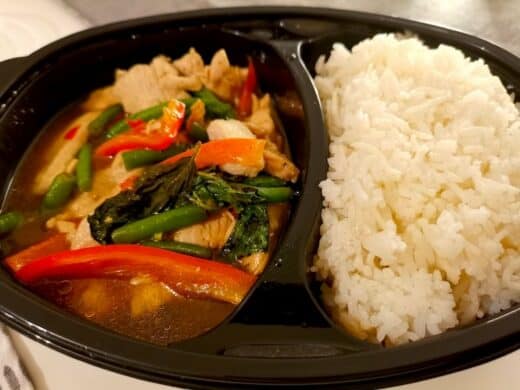 Der Rest des Abends wird sich auf der Couch beim Doku-Sonntag abspielen, ich bin schon gespannt, was ich heute noch so alles für Orte/Länder kennenlernen werde.
Euch noch einen schönen Sonntag!
Bleibt gesund!
Und was ist kommende Woche geplant?
Montag bin ich ganztags auf einem Webinar via MS Teams beruflich zur BU-Rechtsprechung, da bin ich sehr gespannt darauf, wie das zum einen klappt und zum anderen was ich dabei lerne.
Dienstagabend findet dann wieder ein Bloggeraustausch statt zu "Fachthemen", die wir uns an dem Abend erst festlegen. Das war das letzte Mal ziemlich interessant – und ich teile ja gerne Wissen :)
Mittwoch bekommt mein Auto Winterreifen, ich hoffe, das Autohaus ist gut in der Zeitplanung, denn mein Termin ist auf 16:10 Uhr ausgemacht und ab 17 Uhr will ich bei unserem ersten CuraSEO Termin sein, meine persönliche SEO-Reise mit 4 anderen (online-) Teilnehmern und Max, unserem Reisebegleiter auf den SEO-Wegen. Am Donnerstagabend geht es dann weiter..
Und am Wochenende dann hoffentlich endlich das Wiedersehen mit meinem Schatz…
So – wer bis hierher mitgelesen hat: Wie findet ihr die Neuerungen?
---
Anzeigen:
*) Erläuterung Affiliatelink: Wenn Du da drauf klickst und anschließend etwas auf der Seite bestellst, bekomme ich eine kleine Provision – Dein Preis ändert sich aber nicht. Du unterstützt damit meine Arbeit mit meinen Blogs. Und auch den finanziellen Aufwand, der mit dem Betrieb verbunden ist (Servermiete, Domain, kostenpflichtige Plugins, Speicherplatz für Backups etc…)
Ich bin ja echt Fan von Amazon Prime. Meist keine Versandkosten, ordentliche Serien- und Filmauswahl (mein Netflixersatz) und Amazon Music als Ergänzung.
Was haltet ihr eigentlich von
Seniorenhandys wie diesem hier bei Amazon?